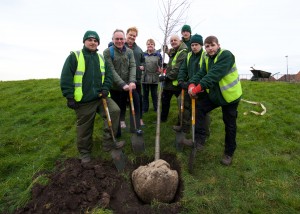 To mark National Apprenticeship Week, apprentices from green service provider Glendale Liverpool have planted new trees and hedge plants in Dingle.
The joint venture between Glendale, the UK's leading specialist green services provider, and Liverpool City Council saw 21 new trees and 650 hedge plants embedded at the Park Hill allotments site.
Celebrating the success of Glendale Liverpool's apprenticeship schemes, the work was completed by ten apprentices from Glendale Liverpool.
Tommy Rice told JMU Journalism: 'This is my third year on the apprenticeship scheme at Glendale Liverpool and I have a further two years to complete. So far, I've gained my NVQ, My Duke of Edinburgh, and I'm starting my NVQ level 2 in horticulture and landscape gardening. I'm learning a lot and I want to stay here as long as I can.
"This is my future now," he added.
Also attending the event was Cllr Steve Munby and Cllr Michelle Corrigan.
Councillor Steve Munby, Liverpool City Council cabinet member for neighbourhoods, said: "The new allotments will be a great asset to the local community, which are being warmly welcomed.  I am delighted that this scheme is being completed by apprentices who are gaining very valuable experience on a project which will stand them in good stead for their future."
By 2019 Glendale Liverpool will have introduced 43 fully skilled and trained employees through apprenticeships, which will represent approximately 60% of the permanent operational workforce.
Peter Cosgrove, Manager of Glendale Liverpool, strongly believes in the importance of apprenticeships for young people, particularly those who leave formal education with few qualifications and sees providing apprenticeships as a matter of social responsibility.
He said: 'Whilst regenerating the city through construction and redevelopment it is as equally important to invest in people and promote a sense of purpose and pride. The planting event today has been symbolic of the positive future Glendale Liverpool aims to provide for young people through our apprenticeship schemes."