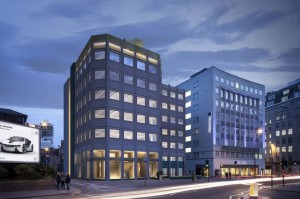 A £6 million refurbishment has begun on a derelict building in Liverpool city centre.
Churchill House on Tithebarn Street has been unoccupied for nearly a decade but work is now underway to transform the building into 40,000 sq ft of office space. The refurbishment project secured £2.4 million from the European Regional Development Fund.
The building is due to re-open in 2015 and will create 400 new jobs. It is being restored by Manchester-based developer Capital and Centric.
Anna Dooley, development surveyor at Capital and Centric, told JMU Journalism: "Any refurbishment works in the city centre encourages businesses to the area and will make the area feel regenerated."
Building work has begun with workers stripping the building of its old furnishings. Computer Generated Images indicate that the building will keep some of its old features but will be modernised.
Adam Higgins, director and co-founder of Capital and Centric, said: "This 1970s' structure is like something straight out of TV drama 'Life on Mars'.
"It's a shame that so many of these buildings have been demolished over the years as they've fallen out of fashion. In the same way that the old red brick mills have enjoyed a revival, these types of buildings will eventually be seen as worthy of keeping."
This is Capital's fifth scheme in Liverpool in the past three years. Others include Speke Business Park and Estuary Commerce Park, both in south Liverpool.