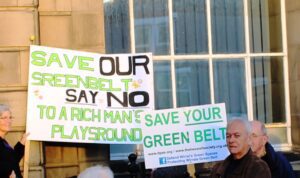 Hundreds from around the Wirral gathered outside Wallasey Town Hall on Monday to protest against controversial plans for the Hoylake Golf Resort.
The demonstration was organised by members of Defend Wirral's Green Spaces and Stop Hoylake Golf Course, who arrived before councillors were due to meet to discuss the £200m scheme that would include two golf courses and a hotel.
The development, which is led by Nicklaus Joint Venture Group (NJVG), has attracted opposition as it is feared that it would also include plans to build 160 "luxury homes" on the surrounding green belt, angering many residents.
Phil Simpson, speaking for Defend Wirral's Green Spaces, described the project as a "smokescreen" for a go-ahead on the housing project led by RedRow Homes. He said: "We don't want the resort and we don't need it, we want to keep our green belt."
During the meeting, three motions were put forward, with two suggesting the cancellation of the plans.
YouTube: Liam Cork
Conservative Councillor Chris Blakeley expressed concern when he said: "The project faces massive public opposition and financial risks to the taxpayer."
He mentioned a responsibility for the Laour-led council to protect Wirral's green spaces. The motion was narrowly rejected by 32 votes to 31.
The UK Government will loan £26m to Wirral Council to part-fund the project under "prudential borrowing" arrangements.
Liberal Democrat Councillor Phil Gilchrist told the meeting: "It is no longer reasonable to put stretched managerial capacity into the project. Prudential borrowing would be better directed to dealing with the housing market failure."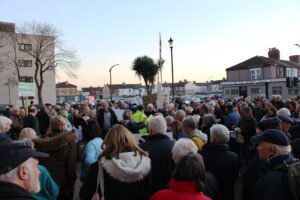 Cllr Gilchrist's motion was defeated by 33 votes to 30.
The Labour motion to back the development was proposed by Cllr Phil Davies, who mentioned concerns over the project, but also noted the potential for a wider benefit and a boost for the local economy, saying: "The plans have the potential to revitalise Hoylake's Market Street."
He added: "We're duty bound to consider 100s of new jobs, badly needed additional hotel capacity and increased investment in local businesses, if we say this scheme should be abandoned it will send a message that Wirral is closed for business."
His motion passed with 32 votes to 29.
Mr Simpson offered a retort following the meeting when he told JMU Journalism: "It's so obvious that it [the resort] is designed to keep people in. Market Street will become a ghost town."