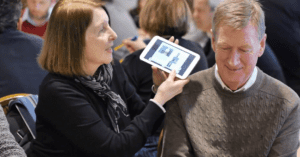 People with dementia in Liverpool have been helping to develop new technologies for the illness through the Innovate Dementia project – a collaboration between patients, John Moores University and Mersey Care NHS Trust.
Of the 90,000 people in the  living with dementia, almost 5,000 of these are in Liverpool, according to the Alzheimer's Society, and the 2013 Innovate Dementia Baseline report claims that the illness costs the economy £26 billion each year.
The centre for collaborative innovation in dementia based at LJMU adopts a living lab approach to innovation and is accredited by the European Network of Living Labs.
It aims to actively collaborate with people living with dementia in finding innovative solutions to their everyday challenges and work locally, nationally and internationally to promote awareness of the positive impact that these solutions can bring to the lives of people living with the condition.
This 'living lab' approach allows people with dementia to discuss the issues facing them with academics and businesses, who then build technologies tailored to their needs. People can then test the technology at home, in hospital or in their care homes and give feedback.
Rebecca Rylance, Senior Lecturer in Mental Health Nursing at the university, told JMU Journalism: "The apps are designed to go on tablet devices and can be customised to remind an individual to do certain tasks to help with their memory and overall wellbeing.
"The memory enabling app that has come about through the Innovate Dementia project has been co-produced by service users and their carers who live with dementia will go live in the New Year after the testing phase.
"The technologies will help some, but not all people, and there may well be a financial consideration. But many trusts are considering 'technology on prescription.' Also, the technologies would serve future generations as the technology will already be embedded."
Currently the centre is collaborating on innovations such as dynamic lighting and tele-health and care as well as the memory enabling technologies. LJMU is working alongside Mersey Care NHS Trust, and European partners from the Netherlands, Belgium and Germany to explore different innovative approaches. They base this approach upon the concern that dementia is a significant European and global issue, with cases expected to rise significantly in North West Europe by 2025.
Ms Rylance added: "The next steps are to innovate other technologies that go beyond the scope of memory enabling and examine possibly ways that people who live with dementia can stay well with their condition and manage their own journey through care."