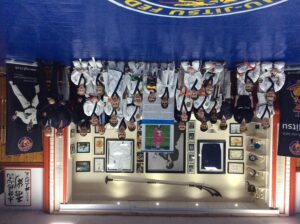 A life-saving defibrillator has been presented to a Liverpool Ju-Jitsu club as part of a city-wide initiative to help prevent young deaths.
The World Ju-Jitsu Federation headquarters in Barlows Lane, Fazakerley, was presented with the defibrillator by Mark King, founder of the Oliver King Foundation.
The Oliver King Foundation was set up by Mark and his wife Joanne following the sudden death of their 12-year-old son Oliver from SADS (Sudden Arrhythmic Death Syndrome) in March 2011.
Oliver, who was a pupil at King David High School in Childwall, died after suffering a cardiac arrest during a routine swimming lesson. His parents set up the foundation to help raise awareness for the condition and have campaigned to change the law to make it mandatory for all schools to have defibrillators.
SADS is a heart condition that commonly affects people aged between 12 and 35 and is often undiagnosed. Across the UK it is thought around 19 young people die from the condition every week.
The defibrillator was presented to group official Robert Hart and Stuart Winder, one of the parents who helped to raise half of the money needed for the defibrillator through events such as supermarket bag packing. The other half of the money was donated by the World Ju-Jitsu Federation.
A spokesman for the group told JMU Journalism: "The World Ju-Jitsu Federation, is a very family-orientated organisation and, as such, we want to look after our students.
"We hope that there would never be a similar incident to that which happened to Oliver King and his family, but if there were we would have the opportunity to save a life, if so ever called upon. It would be like saving your own child."
So far the Oliver King Foundation has presented over 100 defibrillators to schools and organisations across Merseyside, and every secondary school in Liverpool now has a defibrillator.