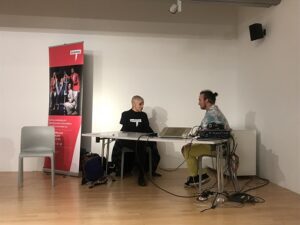 A disability and deaf arts organisation will showcase a range of exhibitions at Liverpool venues this month.
The annual event by DaDaFest will see over 50 performances from well-known and new artists, held over a five-week programme which is entitled 'Passing: What's your legacy?'
Ruth Gould, the artistic director, said: "This year's theme promises to be thought-provoking, heart-warming and inspiring. We encourage audiences to join us on this very unique journey through art, culture and performance."
The artists will explore the concepts of death and disability, and finally the legacies that we leave. For the first time the festival will commemorate the end of the First World War, when disability was recognised as a social construct.
The performances, exhibitions and talks will be hosted in St George's Hall, Royal Court Liverpool, Tate Exchange, and will even stretch to Storyhouse in Chester.
This year's line-up includes comedian Francesca Martinez, theatre-maker Jess Thom, artist Faith Bebbington, Stop Gap Dance Company and multi-instrumentalist, Sarah Fisher.
YouTube: Ellie Watkinson, JMU Journalism
Poetry performer, Ruthie Adamson (stage name Wonky), told JMU Journalism: "What I ultimately got from attending previous DaDaFests was that it inspired me to become a spoken word artist.
"People attending might be inspired to become a part of disability arts themselves, as they may well experience one thing at the festival which utterly shifts their perspective on something, in a far-reaching way."
Some of the most unusual exhibits this year are the eco-friendly coffins designed by art group, 'Who We Are Now'. The coffins can be seen at the Oratory of Liverpool Cathedral until November 18th.
A spokesperson from the Liverpool Hearing Centre said: "We think it's a great idea here at the Hearing Centre. The festival will have a positive impact on Liverpool as it is more inclusive."
More information and a full schedule of performances can be found here.