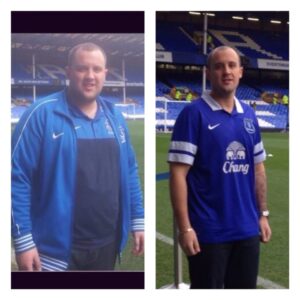 A Liverpool dad capped a dramatic weight loss programme by running his first competitive race last weekend.
David Thompson, from Walton, took part in the Southport Mad Dog race last weekend having gone from weighing 21 stone 4lbs to 14 Stone 13lbs.
He joined Slimming World in May last year before joining his local running club in November, shedding considerable weight in the process.
Thompson told JMU Journalism: "It was brilliant, I remember finishing it was a bit emotional, I waved on the way past to my family."
The annual Southport event took place along the towns shore line with over 1,700 people involved this year.
"The weather was really rough especially the wind but I put my music on and just kept going. I tried to be clever at one point and shouted 'Ally alley o' on the way past to the band that was playing the Everton song but then I struggled to get my breath a little bit. "
The dad-of-two had his long-term girlfriend Carla and sons, Callum, 9, and Riley, two, at the race to cheer him on from the sidelines and the couple are now expecting their third child. They found out the day before the race that a little boy is on the way.
Dave, who works as a junior information analyst at the Liverpool Royal Hospital, said: "I wanted to complete the race in about an hour and I did it in 56 minutes and 37 seconds. I was the 944th to finish."
He plans to continue his healthy lifestyle for good now after seeing the benefits for his health.
"I wanted to lose the weight to be a better role model for my kids, I used to look and people running and think why would you put yourself through that but now after a run I feel amazing and I understand why people run."
Thompson has already signed up for his next race which is Liverpool's Rock 'n' Roll marathon festival in May.