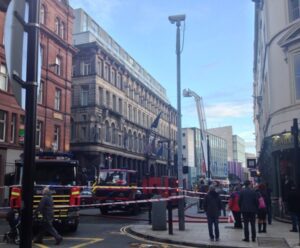 A Merseyside firefighter has gone viral on Facebook after he posted a status warning local residents that cuts to the fire and rescue service will cost lives.
Mark Rowe, the secretary of the Merseyside Fire Brigades Union, claimed that cuts to the numbers of firefighters employed by the service were set to continue even further, which could significantly decrease the survival chances of those caught in a blaze.
In the Facebook status, which has gathered over 10,000 shares, he wrote: "Firefighter numbers have been cut in just over a decade from 1,200 to 680 and as a result of the next round of Conservative cuts that number will fall to potentially 460 or less. It is my view that members of the public will continue to die as a result of these cuts and that those deaths will increase."
Additionally, according to Mr Rowe, the amount of fire engines used by the Merseyside Fire and Rescue Service is also set to be reduced to 24 – a fall from the 42 that were in operation just five years ago.
Rowe, who has been employed with the fire service for 28 years, expressed his concern at these figures, and stated his belief that the latest reductions will only increase the worrying amount of recent fire deaths on Merseyside.
He said: "Merseyside Fire and Rescue Service has over the past five years been forced to cut the number of fire engines from 42 to 28, this number will be cut again shortly to 24. There will, by the end of 2020, potentially have been 10 community fire station closures taking the numbers down from 26 to 16. Fire deaths since 2005 in Merseyside have trebled, cuts cost lives is not just a soundbite it is a reality."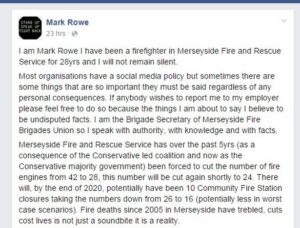 Merseyside Fire Brigade Union members are set to increase their working weeks by 12 hours for less than the minimum wage, in order to go some way towards combating these cuts and protecting the people of Merseyside.
Rowe spoke of his pride in members of his profession who are prepared to go the extra mile and ensure that the safety of the public is their top priority.
He said: "Putting the public first Merseyside FBU members are about to increase their working week by 12 hours for less than the minimum wage to provide extra availability as they know we have too few fire engines available to cope should we get several jobs at once.
"They should be applauded for this and I am humbled by their dedication."