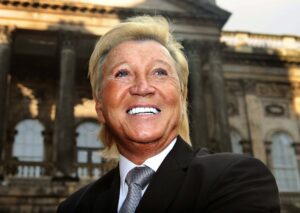 More than a thousand mourners lined streets in town and attended the funeral service of Liverpool's much-loved celebrity hairdresser, Herbert Howe, at the Anglican Cathedral yesterday.
'Herbert of Liverpool', as he was widely known thanks to his salon of the same name, died aged 72 after he lost his battle with cancer last month.
The service was attended by some of Merseyside's famous showbiz faces, including Herbert's close friend, DJ Pete Price, model Danielle Lloyd, actors Claire Sweeney and Jennifer Ellison, as well as X Factor singers, Ray Quinn and Christopher Maloney.
The stars joined members of the public huddled under hot pink and black umbrellas – a funeral dress code colour theme chosen by Herbert himself – as they watched the arrival of the white lacquer coffin.
YouTube: JMU Journalism
City centre streets had been closed in order for Herbert's cortège, along with a convoy of Rolls Royces and stretch limos, to travel pass his iconic 'Bling Building' headquarters on Hanover Street, where crowds gathered to honour him.
The cathedral ceremony was made open to everyone so that people could bid farewell to the charity fundraiser.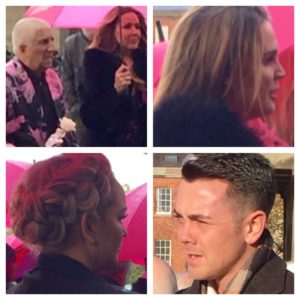 Those who knew him best were called up to make heartfelt orations, including Pete Price, who broke down as he told the congregation: "When I first met Herbert, I knew me and him were going to be friends for life, we were inseparable from day one. We had our ups and downs but we were soul mates.
"My lifelong friend has left me – the man I never got bored with. We all have stories about Herbert and I have about one million, I will miss him so much," he added, before asking the guests to make a standing ovation in tribute to the colourful character.
BBC Radio Merseyside's presenter, Linda McDermott, talked about Herbert's 55-year long career in the hairdressing business, saying: "We all know he could have been big in London. Herbert Howe was a champion of the city of Liverpool, he loved the place and the people here."
The Anglican Cathedral, which was the stylist's "favourite building in the entire world", hosted hundreds of people with their own memories of Herbert.
One of his old friends, Sheila Fitzy, told JMU Journalism: "I knew him from when he was younger and just going into hairdressing. He used to come and carol sing with us years ago and play an instrument, he was so talented.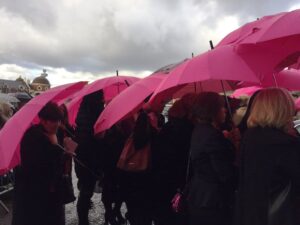 "I didn't know him as much when he got so famous but that never changed though. He never forgot us, money and fame never changed him. It was a lovely service today, a tribute to a wonderful man."
Chris Dale told JMU Journalism: "I met Mr Howe when I worked at a hotel in Sefton Park. He was having his staff party there. One of his then employees wasn't being very nice to me. Herbert stepped in and told him to treat me with respect and then apologised on his behalf.
"This was the only time I met him and he seemed a very genuine person. I had the utmost respect for him for that."
After the cathedral service, white doves were released to honour Herbert, with many crying as the hearse drove away, before family and friends then held a private function at the Hilton Hotel.
Photo galleries by Laura Hughes and Rosie Steedman. Click on a thumbnail to enlarge the images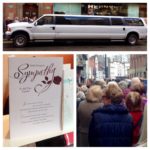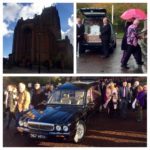 Celebrities paid tributes to Herbert on Twitter
Herbert was a lovely person and the world is less bright without him RIP https://t.co/6sbHVmFxAp

— John Bishop (@JohnBishop100) November 4, 2016
Having a lovely time @hiltonliverpool in memory of my beautiful friend @herbertoflpool lots of hilarious stories the past #greatmemories xx

— Christopher Maloney (@ChrisMaloney77) November 4, 2016
This is going to be a hard day today , I've said good bye to too many friends in the last 3 years now #Herbert and it's too much to bare pic.twitter.com/DhpbAAjkCF

— Pete Price (@PeteCityPrice) November 4, 2016