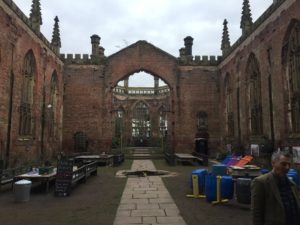 The Bombed-out Church in Liverpool city centre celebrated the European Day of Artistic Creativity by holding host to number of activities.
The CreArt initiative started in 2013 and includes a network of 12 different cities across Europe, who each share their cultural and artistic experiences.
Wednesday at St Luke's consisted of a number of different activities, such as painting canvases with acrylic paints, pictures of which were then uploaded onto social media and shared across the EU.
Ambrose Reynolds, artistic director, told JMU Journalism: "CreArt is across several different European cities and for the first time Liverpool is part of this pan-European project. We think of this as the only 'bombed-out church', but in fact there are many.
YouTube: Jordan Reais
"Our involvement in this project today is to attempt to try to link all of bombed-out churches across the world. There's one in Nuremburg that's beautiful, so across Europe there aare people using churches like this for creative purposes."
The most eye-catching area was the mini-museum in one of the side rooms that contained the names of everyone who died in the World War II bombings in Liverpool, with images of famous landmarks across the city after the Blitz.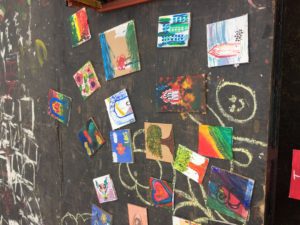 Other features consisted of recycled items, from the canvases to musical instruments made out of pieced of pipe cut at different levels. There were even old car tyres in the tower to hit and recreate the sound of the bells.
Teacher Joanne Larkin told JMU Journalism: "Days like this are great to bring the children. They really get the chance to experience the history of Liverpool, alongside having fun and releasing their creativity inside this wonderful building."