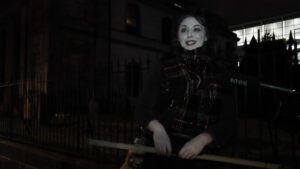 Liverpool's small businesses have received support from a spooky source as the Covid-19 pandemic continues to bite.
One of the city's classic events, the Shiverpool ghost tour, has been able to operate despite restrictions and has felt a responsibility to help other local businesses through their tours.
Lucy Carew is the artistic director of Shiverpool as well as a main performer. She also works with local stakeholders on interpreting local community history and heritage and has seen a significant change in the business community over the last few months.
She said: "As a street performer you get to know a lot of the businesses and it's sad to see a lot of them closed. Hope Street Theatre, the Everyman and all the little bars and places where artists and creatives like to gather.
"Audiences are passing through the streets and we're reminding them that these places will be opening again. It's been nice to be able to support our neighbours and bring a little bit of life in the city centre which will be a positive source in that aspect."
@Shiverpool artistic director Lucy Carew talks to @Emily_Ash14 about how the Liverpool based historical and ghost tour is coping during lockdown and how they are doing their bit to help small businesses>>> #liverpool #lockdown #COVID19 #smallbusinesssupport pic.twitter.com/SVtDBowBO7

— Liverpool Life (@LivLifeMagazine) November 3, 2020
The tour hasn't been immune to the effects of coronavirus, as Carew explained: "Numbers have changed dramatically, all of our bookings have been wiped off the balance sheet. It's been quite tricky but we've been able to operate safely and keep it going.
"We're quite lucky in that our tours are outdoors. But we have had to postpone our ghost bus tour and our old city and deadhouse tour because of the underground location and close proximity."
The latest 'circuit-breaker' lockdown measures are likely to put a halt to any gatherings, indoors or outside, until December 2 at the earliest.