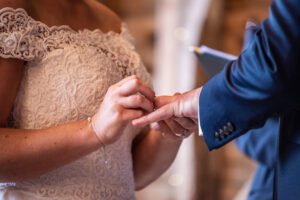 Thousands of wedding suppliers have pleaded with the government for support and clarity on the future of their industry.
The #WhatAboutWeddings campaign has brought people together, including some MPs, who have raised their concerns about what they see as an industry close to collapse.
After 95 percent of weddings were postponed in 2020 due to the Covid-19 pandemic, three-quarters of firms suffered revenue losses of more than 75%. Many of those forced to postpone their big day have been left upset and concerned for what the next year will look like.
Bride-to-be Joanne Buswell is one of many who has had their wedding delayed due to the pandemic. 
She said: "It was really stressful trying to reorganise everyone and wondering is it actually going to happen."
Miss Buswell has had her wedding postponed a total of three times and added that everyone within the industry has been really accommodating despite the 'dreadful times'.
With people pushing for clarification over the last few months and not receiving much hope from Prime Minister Boris Johnson's roadmap out of lockdown announcement this week, many have taken it upon themselves to show how important the neglected wedding industry is.
#WhatAboutWeddings is an independent grassroots campaign that is voicing the concerns surrounding the industry and lobbying the government to provide better solutions for the wedding community.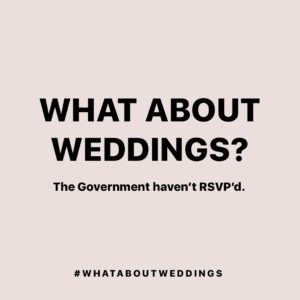 A spokesperson for The Moat House, a wedding venue in Staffordshire, explained how the campaign has helped the conversation reach a wider audience. 
They said: "The team behind #WhatAboutWeddings have been pivotal in getting the message out there. I do think it's thanks to them that we have more clarity in the PM's announcement than we were expecting."
They added how the company has been affected during such a difficult time: "Our revenue was down by £2 million in 2020 and we postponed in excess of 80 weddings.
"Thankfully we've had very few cancellations and, in terms of enquiries, it's been fairly steady but we've definitely seen peaks following the more positive news from the government and expect more to follow."
Another company that has suffered during the pandemic is FizzBox, one of the biggest hen-do organisers in the United Kingdom.
Tom Bourlet, who works in marketing for Fizzbox, said: "We have certainly had a difficult 12 months.
"Since the pandemic hit, the traffic on our site has dropped significantly, with quotes remaining at least 90% down since April 2020."
He added how the company has had to adapt their services to cater to the multiple lockdowns and restrictions and about the road to recovery from such losses: "We introduced virtual hen party activities in order to continue selling our services during these difficult times.
"After Boris' announcement yesterday, the traffic on our site reached the highest point since the pandemic began.
"It seems that the reaction to the roadmap out of lockdown has encouraged a number of people to put in enquiries and so far, the majority have been for hen parties in July and August."
Boris Johnson's plans to ease out of lockdown state that from March 8 weddings with six people can take place. Up to 15 people can attend a wedding after April 12, with 30 guests permitted from May 17 and then all restrictions lifted by June 21.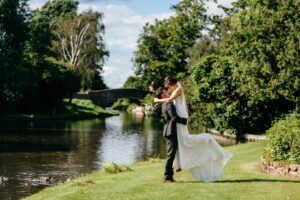 All of this will depend on infection rates remaining low but it does at least provide a glimmer of hope for the future.
Fatma Keeley is a photographer and owner of Smiley Huseyin Photography that would usually attract lots of work from weddings. She said: "I was relying heavily on my wedding fares to generate more income and bookings for this year which leaves me out of pocket massively.

"With the majority being postponed or cancelled, it leaves me with no exposure."
She added: "When you're a photographer, your camera is basically an extension of your hand, so when it's been put in a bag and left for ages, you feel like part of you has been put to one side and almost lost."