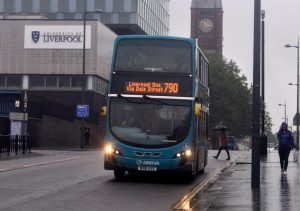 Bus lane restrictions have been lifted in Liverpool as part of a nine-month trial starting today, but the scheme has attracted fierce opposition from critics.
Liberal Democrat Councillor Richard Kemp has slammed Liverpool City Council's decision to abandon all the city's bus lanes to ease congestion, after his political rival, Labour Mayor Joe Anderson, introduced the plan.
Cllr Kemp feels that the entire scheme has been implemented poorly. He told JMU Journalism: "It's a botched operation. It should have been looked at properly with professional opinions coming into politicians. Instead a politician has made a decision, and the professionals have had to try and justify it."
The councillor has also claimed that scrapping the bus lanes could endanger the public, and that Mayor Anderson has no evidence to support his claims about traffic congestion.
Mr Kemp said: "The mayor admits that he has no proper evidence for this; it's just what he thinks, as he goes in his chauffeured car to and from the municipal building.
"Liverpool already has the worst record for killings and serious injuries on our roads for both pedestrians and cyclists. Because there's been no consideration of this issue my horrible feeling of this is that this will just get worse."
John Coyne of the Green Party is another Liverpool councillor who has spoken out against the scheme, telling JMU Journalism: "This is going to be hugely embarrassing for Liverpool. The Green Party is going to campaign to get this trial aborted. I talked to Radio Belfast today, and over there they are increasing their bus lanes, while we're getting rid of ours."
The decision for the bus lanes to be scrapped was made after Mayor Anderson determined that all 24 of them "simply don't work". Liverpool's council cabinet approved the plans in September.
Despite the fact the bus lanes generate £700,000 per year in fines for the Town Hall, Mayor Anderson said it would be wrong to treat motorists "as a cash cow".