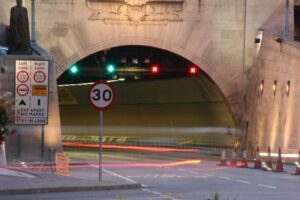 A Wirral councillor has blasted the decision to increase the Mersey Tunnel toll in April, describing the move as "absolutely incredible".
Transport authority Merseytravel is set approve the 7% rise on Thursday, meaning the toll for a car will go from £1.50 to £1.60.
Councillor Chris Blakeley, who represents the Moreton West and Saughall Massie Ward, has slammed the proposed increase of 10p per individual journeys and has argued that the new prices are coming at the wrong time for drivers.
After a two-year freeze on Mersey toll prices, officials have now recommended the rise, which is set to net £2.6million for Merseytravel, even though it is said that the funding isn't needed for the upkeep of the tunnels.
Cllr Blakeley said: "I find this absolutely incredible. Over the last 10 years Merseytravel has taken more than £40 million pounds in surplus tolls to subsidise half-empty new headquarters, tramlines that never saw the light of day and other vanity projects."
Cllr Blakeley has also hit out at Merseytravel, saying it needs to get itself in order before coming back to hard-pressed drivers.
He said: "The ill-conceived 2004 Tunnels Act has allowed Merseytravel to fleece drivers. It is nothing more than a tax on the people of Wirral and the wider community. Councillors who serve on Merseytravel should remember who they are supposed to be representing."
Merseytravel has said they do not comment on reports ahead of meetings.