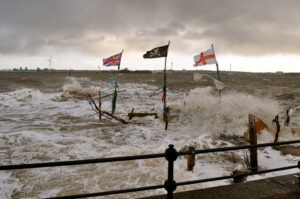 Wirral Council plans to demand that the government does more to help the borough recover from last December's stormy weather.
The council has put aside £250,000 to repair the damage but senior councillors have been critical of the government for covering less than a tenth of the cost.
Labour Councillor Brian Kenny, a cabinet member for the environment, told JMU Journalism: "The storm caused a great deal of damage on the 13th of December last year, particularly in New Brighton and West Kirby.
"We have allocated £250,000 for repairing the damage but most of this money is coming out of reserves we would have preferred to spend on frontline services, and because of government cuts it's more important than ever that we have money for such services.
"The Prime Minister actually publically said that money is no object but he gave us only £20,000 from the central fund.
"When the PM says money is no object, he needs to make it clear that he means the whole country and not just southern places that tend to be Conservative-supporting."
Cllr Kenny will put a motion forward at tonight's full council meeting instructing Chief Executive Graham Burgess to "write to the government seeking equal and fair treatment for Wirral".
Labour Council Leader Phil Davies supports the motion but the planned request has not been met with enthusiastic support from the whole council.
Conservative Councillor Jeff Green, leader of the largest opposition group on Wirral Council, told JMU Journalism: "The government have already made resources available for storm damage and floods – particularly for businesses. As of now, two businesses are back to normal because of that.
"It's been three months since the storm and the Labour administration have done very little to repair the damage caused. We're still struggling.
"More resources from the government would be welcome but the Labour administration should take responsibility for the damage caused and do more to deal with it even if the government doesn't commit to more funding."