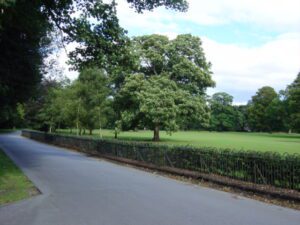 Liverpool City Council will earn up to £234,000-a-year after a popular golf course was handed over to a private company.
Allerton Golf Course has transferred to Allerton Golf Trading Ltd as part of a new 25-year-deal which will see the firm take over the operation of the course and continue to provide affordable and accessible 'pay-and-play' golf.
The same company, part of the Maghull Group, also took over North Liverpool Golf Course in Kirkby earlier this year in order to save the city council around £1.7m over the next five years.
Mike Hanlon, director of Allerton Golf Trading Ltd, told JMU Journalism: "We are delighted to have secured the 25-year operating lease for Allerton golf course. There is a great opportunity to improve the golf and also the off-course offer, which has suffered from a lack of investment over recent years.
"We do not have any pre-conceived plans for Allerton, but we will speak to the three clubs based there – Allerton Manor, Dudley and Allerton ladies – and understand what exactly needs to be done to improve the overall offer, both on-course and off-course. The current condition and offer within the clubhouse is very poor, so there is a big opportunity there for us."
The Liverpool Echo revealed in January that the city council overspent on the running of the golf courses by around £339,000-a-year.
Councillor Wendy Simon, Assistant Mayor and Cabinet member for culture and tourism, said the news of the Allerton golf course's future being secured was "really positive, not only for golfers, but for the city as a whole".
She told the Liverpool Express: "We have got to save £156 million over the next three years, and the tough budget choices we are facing means we have to prioritise services.
"Sadly, we can't continue to subsidise some activities so all partnership options need to be considered, including those from the private sector, to find different ways of securing their future."
She added: "We already have a strong relationship with the Maghull Group due to our work with them over the North Liverpool Golf Course and we know they are committed to improving the golf offer along with the off-course facilities. This new agreement ensures that people can still play golf on a beautiful 18-hole course in one of the most picturesque parts of the city."