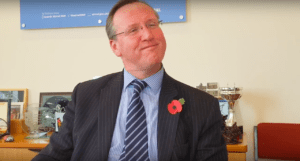 The Leader of Wirral Council has spoken of his surprise decision to quit politics next year, but vowed to keep on working to achieve his goals before stepping down.
After serving nearly 30 years as Leader of Wirral Labour Party, Phil Davies is set to leave his post in 2019 after leading the local authority for the past seven years.
Councillor Davies, who has represented Birkenhead and Tranmere since 1991, told JMU Journalism: "Until May next year I'm still a councillor and there are things that I still want to finish."
One of the reasons behind his resignation is due to his belief that the timing is right for him to focus on situations that are more personal.
The 59-year-old said: "I feel it's time to move on to do more challenges. I have three grandchildren and another one on the way, so I want to spend time with them.
"I'm not going to be taking it easy. I'm going to be going full pelt in order to get all those things completed by next May."
YouTube: John Brace
His target of £45 million savings is going to be difficult to achieve, but he claims he has a plan of action to help provide good frontline services for local residents.
Under his tenure, Cllr Davies has also helped set up 'The Wirral Growth Company' – a partnership between the council and a private developer called Muse, which is going to regenerate large area of the peninsula, starting with Birkenhead.
He claims improving children's services should hopefully come out of intervention within the next six months if the council keep up the hard work, following a damning watchdog report about failures surrounding the crimes of a local child grooming network.
Generally, he says his experience with the council has been "amazing", with his main frustration being not having enough money to meet the needs he felt were necessary.
He said: "Overall, when I look back over the years, it's been a wonderful experience. To be leader of my home borough – the place that I was born and bred in – is a privilege and an honour."