This week marks the one-year anniversary since the UK entered lockdown for the first time due to Covid-19. As schools and universities closed, the hospitality sector shut its doors and office workers set up their desks at home as we waited apprehensively to see how the pandemic would unfold.
There was much speculation in March 2020 as to how long the pandemic would last. It seemed unfathomable that 12 months later the UK would be observing a national day of reflection to mark the anniversary of the first lockdown while at the same time waiting for the end of the third.
After a year of back-and-forth restrictions, the threat of 'circuit-breaker' lockdowns, the continuation of social distancing, mask weraing and countless bottles of hand sanitizer, many business owners and employees have been left in a round-about of hope and uncertainty as to how they will survive financially.
Certain sectors have been hit harder than others through the pandemic. Some self-employed workers have been significantly affected after not qualifying for the furlough scheme, resulting in claims of being forced to break lockdown rules to put food on the table and pay the bills.
For many, these unprecedented and unpredictable times have put a strain on personal lives and businesses.
Self-employed hairdresser Karen Finlay told JMU Journalism how Covid-19 has impacted her business>>>
For many parents, working from home has also meant taking on a new responsibility of home-schooling. This has highlighted challenges faced by low-income families in particular who are struggling to afford the resources needed to educate their children such as broadband access, textbooks and stationery. Even those who are able to provide the required resources have still found teaching difficult.
Andy Bradshaw shares his experience of home-schooling his eight-year-old daughter>>>
Lives have been changed dramatically since the start of the pandemic, and while many contemplate this change at home, nurses have remained in work throughout. As essential key workers, they have been faced with arguably the biggest challenge of everyone – to save lives.
Covid-19 nurse Lauren Watts explains what life is like on the front line>>>
"Being a nurse is hard enough, never mind working through a global pandemic and the pressure can get unbearable at times. Having to work 12-hour shifts, three times a week, wearing full PPE is exhausting and mentally draining.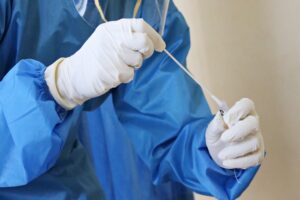 "It's really difficult but our work is necessary action to prevent the spread of covid and protect the patient's we go into work to care for.
"Covid-19 hasn't changed my desire to work as a nurse, it's actually been more of a learning curve and I have dealt with many personal and professional situations that I never thought I would have to.
"I'm grateful for the opportunities this has given me but, it has not been an easy ride to get to the stage I am now."
The national day of reflection comes as over 126,000 people have died in the UK of Covid-19. A minute's silence was observed on the first year anniversary to remember the lives lost and people were also encouraged to shine a light outside of their door at 8pm to commemorate what has been a year like no other.
UK COVID-19 PANDEMIC TIMELINE 
On April 12, the same day Prime Minister Boris Johnson is discharged from hospital after battling Covid-19, the UK passes a death toll of 10,o00.
Just five days after Boris Johnson announces that we are "past the peak" of the virus, the UK death toll rises to 32,000 – becoming the highest in Europe.
After a gradual easing of restrictions throughout May and the launch of the flawed NHS test and trace system, some children return to schools on June 1.  Just over a month later pubs reopen and couples may say "I do" at weddings on July 4.
On August 3 hospitality is booming as 'Eat Out to Help Out' is launched before restrictions begin to tighten again on September 24 as pubs and restaurants face a 10pm curfew – the same day the UK reaches it highest number of cases recorded since the pandemic began, a total of 6,634.
A second lockdown is looming but not until after the tier system is introduced on October 12.
By November 5 the second lockdown is officially underway, with all non-essential retail and hospitality closed.
Positive news is then broken on December 8 when Margaret Keenan becomes the first patient in the world to receive the Pfizer vaccine. However, this does not last long as the nearly all areas in the UK will placed in tier 4 on December 19 just before Christmas.
After Christmas on January 4 the UK enters its third national lockdown, as covid deaths are reaching an average of 450 a day.
By February 22 Boris Johnson delivers the roadmap of out lockdown, which now places us just three weeks away from hospitality and non-essential retail to open.