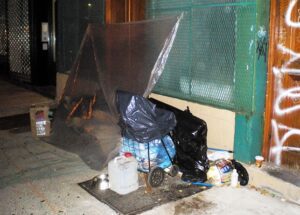 A Liverpool charity is keeping homelessness on the agenda after being chosen as one of the organisations to benefit from a campaign urging people to bypass beggars and donate straight to them.
The Whitechapel Centre is one of four charities to receive help from a campaign called 'Your Kindness Could Kill'. Operated in the run-up to Christmas, it encouraged people to donate to local organisations which can provide lasting help, instead of handing change to beggars who may then use it to fund drug or alcohol addiction.
While homelessness is an issue which usually catches media attention around the festive season, it is a desperate plight which requires constant action.
Ruth McCaughley, a representative from The Whitechapel Centre told JMU Journalism: "Christmas is a time that focuses people's attention on the issue but it does carry on all year round."
A total of £6,400 was collected which will now be handed over to The Whitechapel Centre, the Basement, Young People's Advisory Service (YPAS) and the Liverpool Homeless Football Team.
Ruth said: "At the annual, independent rough sleeper count in November we recorder six rough sleepers. Obviously this number varies a little, but thanks to the No Second Night Out campaign and our '24 hour sit-up' and hub service we are able to prevent hundreds of people a year ending up on the streets."
However, she stressed that homelessness extends beyond rough sleepers. According to the centre's website, it has worked with almost 2,300 people in the past year; a marked increase of 27% on the previous year's figure.
The Whitechapel Centre is open 365 days a year and provided over 4,500 breakfasts for rough sleepers in 2013, as well as finding accommodation for almost 1,200 people.
Ms McCaughley said: "We can offer a range of options to people, including finding accommodation, providing long-term support, working with landlords, budgeting and benefits advice, dealing with substance misuse issues and mental health issues."
"The public can help our work by donating financially, fundraising for us, donating items to us and volunteering with us."
To report someone sleeping rough on the streets of Liverpool, you can call the Whitechapel Centre on 0300 123 2041.