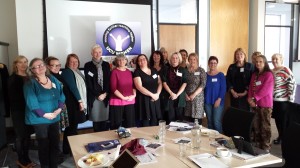 Some of the North West's most influential women came together last weekend to inspire other women to lead.
The Women's Centre in Liverpool hosted talks from Labour North West MEP, Julie Ward, and the new Trades Union Congress Regional Secretary for the North West, Lynn Collins.
The aim of the 'Women Inspired to Lead' conference was to provide opportunities for women to explore and discuss the challenges they face in politics, the workplace and in the community as well as discuss ideas to overcome these barriers.
Ward told JMU Journalism: "I think we have a real need to build and to support organisations and networks for women in order to say, it is okay to do things differently and to do things our way."
She held a one-hour question and answer session about her work as MEP, being a writer and cultural activist. Ward added: "I think it can be very lonely and sometimes the opportunities arise for women and the selection in the case of politics can be very gruelling, rigorous and very bruising and there is nobody to hold your hand and take you through those processors."
Ward also talked about the wider issue of women in politics, how they encourage more women to become involved and the possibility of a future woman prime minister.
She said: "I can see that there are potential women leaders across the political spectrums, I do not believe it is something that is just an aspiration and a possibility with my own party. I think it is something that women across the political spectrum have a vision for and can achieve."
In recent years the 'Women Inspired to Lead' project has organised women-only training, continuing professional development training in the workplace and online courses aimed at supporting educational professionals.
Janet Newsham, who organised last weekend's event, said it was an opportunity to learn from "some of our most influential leading women in the North West, to develop new skills and be inspired to lead".
Coaching and mentoring for group work and public speaking also took place along with debates on people's experience and problem solving solutions for women who want to lead in male-dominated professions.
Collins spoke about her journey to one of highest positions in the TUC and the difficulties she faces being a women in such a leadership role.
She told MU Journalism: " I do not think trade unions represent women well enough, a little bit like the rest of society really. They have made great strides to make their organisation accessible to women, lots of trade union members have done lots of good work but change takes time."
The next 'Women Inspired to Lead' will take place in March 2015.