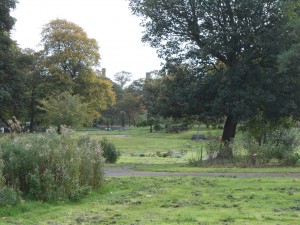 A controversial list of sites which may be earmarked for development has been drawn up by Liverpool City Council, including 30 parks, playgrounds and playing fields.
The early stages of producing the 'Local Plan' are underway, with the aim of showing which projects could be available across the city.
The list contains 152 areas of council assets, including the likes of Newsham Park and Walton Hall Park, as well as numerous brownfield locations.
Hundreds of protesters were at Walton Hall Park at the weekend campaigning against Everton Football Club's proposals to build its new stadium there. A petition against the plans has now collected over 2,000 signatures and more demonstrations are planned for the future.
The Local Plan has raised opposition from some councillors and campaigners about losing some of Liverpool's greenfield parks.
Councillor Steve Radford, leader of the Liberal Party in Liverpool, said that legally the document is essential but he was concerned about how much consultation would actually take place.
He told JMU Journalism: "I think the council made a grave error building a modernist school on the fringes of Newsham Park and I would resist any attempts to develop that space more. I am nervous that the council is considering a significant expansion into green space."
Councillor Peter Mitchell, Mayoral Lead for Parks and Open Spaces, said it was important to remember that the announcement was only the start of a discussion, and that the council wants to hear what the public think.
He told JMU Journalism: "This is a live document which is still being processed and wouldn't be available until 2018. It is highly unlikely that most of the sites on the list will be developed on by the time the discussion period is over, and during that period we want to encourage people to come forward and share their views with us."
Christina Ashworth of Treehouse Liverpool, a community group specialising in events in Newsham Park, fears for local communities if parts of it were to be built on.
Ms Ashworth told JMU Journalism: "The way we see our park is not the same way as a planner would see it. Once we have used all the brownfield sites and numerous derelict houses and buildings that need regeneration, then they would have a better case, but before that happens then building on parks like this would not be wise."