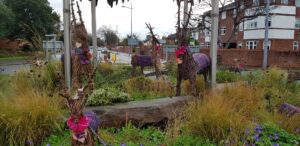 Hoylake residents have come together to ensure the Christmas lights switch on is anything but a turn off.
With potential for a stronger tiered system when the country comes out of national lockdown on December 2, many Christmas events have been called off this year.
Wirral Council released a list of seasonal events to be cancelled back in October, including Christmas lights switch-on events across the peninsula.
However, voluntary community group Hoylake and Meols Christmas Lights are still aiming to light up the town to create a Christmas wonderland.
Social distancing measures mean this year's event will have to be low key, although special arrangements are still being made by residents who help fund the project through donations, fundraisers and sponsorships.
A spokesperson for the group said: "For the past three years we've estimated around 1000-1500 people came along to see the lights switch on. We always get a good reception and I think the first time we had a big switch on in 2017 everyone was amazed just how many people turned up.
"Of course, it's a shame there's no big switch on but we just couldn't do it."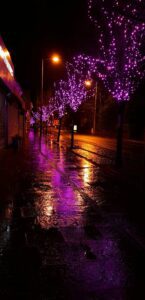 Even before the council's announcement, the group had already planned to cancel the switch-on due to Covid-19 restrictions.
Added the spokesperson: "We made the decision earlier this year that it looked highly unlikely it would happen as usual. Lockdown two has meant that we were right!
"Having said that we have a sister and brother who will "switch on" the lights on a day only known to us! They will have mum and dad there and a couple of socially distanced volunteers. We will put it live on Facebook but will not advertise it. I'm sure everyone understands why we have to do it this way."
Whilst the current pandemic has put a stop to normal proceedings, the project has brought the town community closer together:
"This year more than before people have bought into the idea of the lights and have wanted to contribute. This is evident in the road collections that have taken place. I think the community are just ready to enjoy the lights without a grand switch on."
Some Hoylake residents are sad to be missing out on the celebration this year. Rebecca Langley, 21, said: "The Hoylake lights give us such a Christmas atmosphere and a lot of the community see it as the beginning of Christmas. It brings us all together. It's really sad we won't be able to celebrate together this year."
Chris Minnet, 50, said: "It's such an iconic part of the town now. Since it started, it's just got bigger and bigger and now everyone knows about it.
"You can tell how popular they are by how many people normally attend. It's a shame we are unable to watch as it's such a great celebration and does in a way make Hoylake famous at Christmas! But, we have to obey the law and keep everyone safe."
Kathryn Roberts, who lives on the Wirral but travels to Hoylake for this event, shares the disappointment: "I love watching the switch on of the lights as it looks brilliant every single year. However, it's obvious why it cannot be done and me, alongside others, will just have to admire the hard work put in from afar."