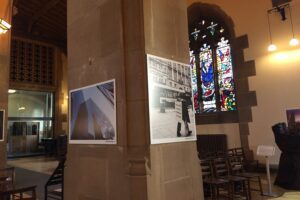 A unique exhibition showcasing the work of local photographers has opened at Our Lady and Saint Nicholas Church (St Nick's).
A photography competition, entitled 'This Commercial District in Focus', was launched in September by Liverpool BID Company.
It invited people who live and work in the Commercial District to capture nature and the built environment, architecture and street scenes from around the area.
A collection of the shortlisted photographs by 10 local hopefuls are now on display at St.Nicks until Friday November 25th.
Student Deividas Toleikis told JMU Journalism: "This is the first time that my work has been recognised and actually displayed, therefore it is incredibly overwhelming for me.
"I like to think that my work is quite unique I am constantly trying to innovate and see how I can differentiate myself from the next person."
YouTube: Commercial District
The top three photographs will be chosen by a judging panel consisting of Father David Baverstock from Our Lady and St. Nicholas Church, Lucy Byrne from dot-art, freelance photographer Arthur Gold, and Nathan Marsh from the Liverpool BID Company
Local photographer, Lenka Svarcova, originally from the Czech Republic, told JMU Journalism: "I am really delighted to have all three of my photographs displayed. To see them large on the walls of such an iconic church has really boosted my confidence.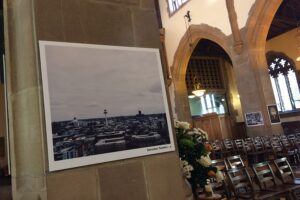 "I'm currently trying to start a photography business with my partner. It's difficult, but this has given me hope and courage to continue with it."
Members of the public are also able to vote for their favourite 'people's choice' winner that will be announced when the exhibition ends.
Bill Addy, chief executive of the Liverpool BID Company, said: "We were overwhelmed with the quality and diversity of the photography submitted as part of the competition.
"Liverpool's Commercial District is a bustling area mixed with work spaces, homes, bars and restaurants and much more. With so much going on it can be easy to take the day-to-day surroundings for granted."