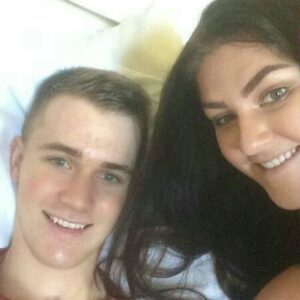 A brave teenager and lifelong Liverpool fan enjoyed his first outing from hospital after being in a coma – watching his beloved Reds win against QPR in a pub with friends and family this weekend.
Daniel Cousineau, of Orrell Park, was left with multiple brain injuries after a head-on-crash on Melling Road, Aintree, in May this year. The 19-year-old was a passenger on his way to a party when the car crashed and he suffered multiple brain injuries before being cut out from the wreckage and taken to Aintree Hospital by paramedics.
Upon arrival, it was discovered he had a fractured spine and perforation of the bowel. A bleed on the brain also caused paralysis in the teenager's right-hand side and he was put into a drug-induced coma as doctors fought to keep him alive.
The former Maghull High School student, has beaten all the odds as he continues to recover in the Walton Neuro Centre.
Dan's sister Jenny, who has been running his Twitter page and keeping everyone updated on him, told JMU Journalism: "As far as doctors can tell, his spine and bowel have healed and he will need surgery on his left wrist in the future to rest the bones that couldn't be fixed when he was in an induced coma.
"His recovery is now more focused on his brain which, due to the severity of his injury, will never be what it was."
Nicknamed 'Dan the Man', Daniel has now been moved to a different part of the hospital where his occupational therapists are focusing on improving his memory and cognitive skills while his physiotherapists are trying to strengthen his right side.
Dan still has a long way to go with his recovery and should be moving to another hospital in the New Year for rehabilitation, but the Liverpool fan hasn't been short of supporters with his dedicated friends and family being by his side throughout.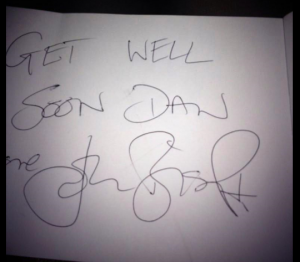 Liverpool comedian John Bishop also showed his support for Dan as he signed an autograph for him alongside a "get well soon" message.
Dan's sister, Jenny, who has put her midwifery degree on hold to be at her brother's side, said: "His closest friends have been amazing, they come the hospital three or four times a week and sit with Dan on Friday nights to watch a film or bring their PlayStation to the hospital."
Friends and family organised a fundraiser in August where they brought in hundreds of pounds for a hospital campaign as 350 friends filled the Orrell Park Ballroom to raise money for the centre where the teenager continues to recover.
Jenny added: "We're all unbelievably proud of him for overcoming what one doctor told us he wouldn't. He hasn't let being in hospital for so long discourage him, he puts so much effort into his speech, occupational and physical therapy and his personality is coming back more each day."