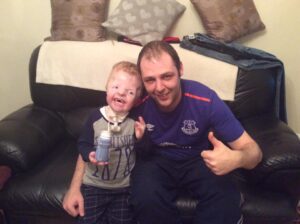 Everton player Seamus Coleman has donated £5,000 to help a young Toffees fan with a genetic condition fulfil his dream of visiting Goodison Park.
Coleman became aware of the case of six-year-old Daire Flanagan from Belfast, who has the rare condition, Apert Syndrome, which affects the skull. When Daire was born doctors told his family that he was not likely to survive 48 hours.
Irish international Coleman made the generous donation to Daire's GoFundMe page, smashing the £1,000 target that was initially set, bringing the total to over £7,000 in just five days.
Brave youngster, Daire, has had over 20 operations in his short life, more than the average person could ever imagine, but he has defied the odds and is doing well.
Close family friend and former neighbour, Ciaran Rogan, who set up the page to help Daire and his parents, told JMU Journalism: "Daire loves to play football, but as his mobility affects his playing outside… but he still thrives in his wee life."
The challenge doesn't stop there to allow Daire the chance to see his beloved Everton as family and their friends are continuing to drum up awareness and seek medical travel assistance.
Ciaran added: "We are going to put out appeals now to all air ambulances around the country for some help in this appeal to get Daire across the water. It's brilliant that's Seamus has come on board to send us on our way."
The family is starting to plan Daire's trip, with many people offering generous donations on the Facebook fan page, including executive tickets in the directors' box.
Ciaran said: "We will be picking a match out of the new fixture list in August, so we are hoping it will be before the end of this year. I set up the page as I wanted to give Daire and his parents a weekend to remember.
https://www.youtube.com/watch?v=ZyLhiTXVOjo
"The executive tickets are just one kind offer of many – we have local business here in Northern Ireland and Liverpool offering their full support, from hotels offering free accommodation and taxi drivers offering to drive him about when we are over. The support has be amazing and overwhelming."
Everton FC have been in touch with the family and have promised them VIP treatment when they make the trip.
Coleman spoke about his decision, telling the Everton website: "I read Daire's story online and would love to help get him his trip to Goodison next season. I hope that [my donation] can help get Daire and his family a safe trip to Liverpool. Looking forward to seeing you at a game next season."