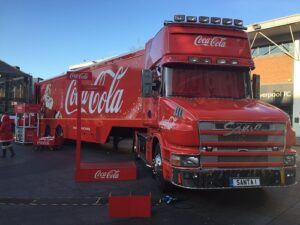 The famous red Coca-Cola truck has returned to Liverpool as part of its 'Holidays are Coming' Christmas campaign.
Shoppers welcomed the truck to Williamson Square, where it will remain until 9pm today.
Hundreds turned out for today's event, where staff will take photos of people with the truck as well as hand out free samples of the drink.
The advert, which is airing for its 21st year, is considered by many to mark the 'start of Christmas'. It usually premieres in the Saturday primetime TV spot at the end of November.
After sunset, shoppers will see the vehicle lit up and there will be a special animation, which is said to be powered by the crowd's 'seasonal goodwill'.
Shopper Ruth Lemin, 20, said: "This is the first time I've seen the truck in person. I love Christmas and the truck makes it feel even more festive."
The famous truck will return to the area in two days when it shows up in St Helens.
YouTube: Coca-Cola
https://www.youtube.com/watch?v=-gMjPezr8TY