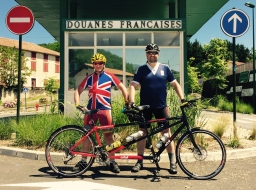 A Speke-born banker will cycle from one side of the country to the other this April in a bid to raise £8,000 to build a solar-powered computer lab in Kenya's Rift Valley.
Bernie Hollywood, 56, has raised over £39 million in his 30 years of charitable acts and this ride, from Whitehaven in Cumbria to Whitley Bay, is just the latest voyage for Bernie, who was recognised with an OBE in 2013 for his services to charity.
Mr Hollywood told JMU Journalism: "Challenges like this are a great opportunity to raise awareness. I'm doing a west to east cycle, dipping my wheel in Whitehaven in the Irish Sea and then two-and-a-half days later dipping it in the North Sea at Whitley Bay."
This is not the first time Bernie has got on his bike for a good cause, having cycled across America, ridden to Africa and back to the UK and pedalled all the way from John O'Groats to Lands End,raising millions in the process.
Bernie, who is based in Bromborough on the Wirral, refers to working as his 'spare time' and sees banking – which has taken him to London and New York – as secondary to his real passion, which is raising money for those in need.
The Memusi Foundation is an official UK registered charity that Matthew Norton, Bernie's best friend, set up 10 years ago. The foundation, of which Bernie is a long-term director, trustee and ambassador, seeks to give African children hope through education and has helped to build five schools in Kenya and one in Tanzania.
It is for a Memusi Foundation school in the Rift Valley that the £8,000 is needed. Bernie and his team will be building what they say will be the world's first solar-powered computer classroom, which will enable the children to learn computer coding; another of Bernie's passions.
"I remember Matt gave the children pencils and I was taken aback by their reaction. That's when I said to myself that I wanted to do something," Bernie said.
"We have 300 children in the Rift Valley that we feed and clothe. We pay the teachers and give everyone a great environment whilst engaging with the community and providing free healthcare."
Bernie, along with his partner Jon Alexander, recently cycled in tandem successfully from North Africa to Yorkshire through four countries, raising over £50,000 for the Memusi Foundation, with every penny going to the project as nobody involved takes a salary.
"I just love helping people in need, it's my life," Bernie said.