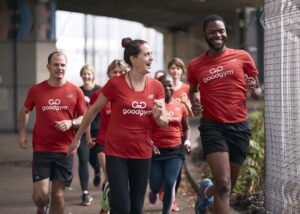 An organisation that aims for people to get fit by doing good deeds is coming to Liverpool this month, and is reaching out to local charities, offering help.
GoodGym, a national running club that aims to give back to the community, offers people the opportunity to tone up and meet new people. They will be holding a launch event in city on March 26th.
They stop off on their runs to do physical tasks for community facilities, as well as supporting isolated older people with social visits and one-off tasks that they can't do on their own.
Club trainer Char Binns told JMU Journalism: "I've been talking to GoodGym about launching in Liverpool since early December, so I'm really excited to finally get going. Liverpool has a vibrant running community, but there is nothing quite like GoodGym, which combines getting fit with doing good."
The first run will start ay 6pm, jogging around 2.5km to their task at Fern Grove Community Garden in Toxteth. After a winter left dormant, the garden is in need of a good clean-up and some TLC. They will be tidying, clearing and digging over the allotment beds.
Char said that the response so far has been "fantastic", adding: "The reason GoodGym chose to launch in Liverpool is because hundreds of people from the city had already registered their interest. Loads of runners, including other running clubs, have been really warm about our arrival, which is great.
"Most of all, lots of charities and community groups have been in touch and are excited to welcome our runners as volunteers at their projects."
GoodGym officials are calling for Liverpool charities who may require some assistance to get in touch, contacting them via Twitter @GoodGymLpool or by emailing [email protected].
The organisation is particularly looking to offer assistance with physical tasks, such as gardening, tidying and moving heavy furniture that can be done by a large group in a short amount of time.
YouTube: GoodGym