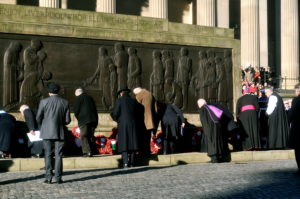 Liverpool's Cenotaph is to be one of three memorials in England to be given a Grade I-listed status.
The war memorial that stands in front of St George's Hall in the city centre was designed by British architect, Lionel Budden, and was unveiled in 1930. It was at the time a subject of great debate due to its unusual shape.
Some of the unique features of the horizontal monument are the two bronze reliefs, sculpted by George Herbert Tyson-Smith, on both sides. The panel facing Lime Street station depicts the scene of a commemoration of Armistice Day, whilst the panel on the side of St George's Hall shows a marching army.
The Cenotaph was awarded a Grade II status in 1952 which has now been upgraded to a Grade I-listed status.
Culture Secretary Maria Miller announced that up to 500 war memorials are intended to be listed over the next five years as part of the programme to mark the centenary of WWI next year.
Mrs Miller added: "This centenary comes at a point where living memory becomes written history, so it is absolutely essential that our work to mark it speaks clearly to young people in particular. War Memorials are a precious part of our heritage that keeps alive the ultimate sacrifice that so many made."
Roger Bowdler, Designation Director at English Heritage, said: "The Liverpool Cenotaph is a remarkable monument, combining the highest quality of design and artistry with a dignified and painfully poignant memorial to the losses suffered by the people of Liverpool. It fully deserves this designation at the highest grade."
The two other Grade I war memorials were designed by Sir Edwin Lutyens. One of which is the Cenotaph in Whitehall, London and the other is the war memorial in Victoria Park, Leicester.