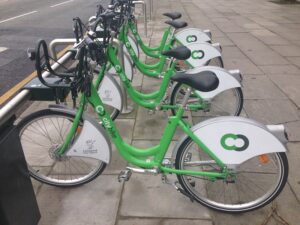 Liverpool's CityBike scheme is expanding into the north of Liverpool following an increase in demand.
Citybike, which is the biggest public bicycle hire scheme outside of London, came to the city in May 2014 and has proved to be a success with locals and tourists.
Thirteen new stations have been installed in the north of the city, including Edge Lane, Walton, Ellergreen, Alsop, Everton Park and Anfield, as well as Old Lane and Kensington.
A Cabinet Member for Regeneration, Councillor Malcolm Kennedy said the expansion was crucial for the people of Liverpool. He said: "By extending the Citybike network people will now be able to cycle to work or their place of study more easily.
"The expansion means there will be a station near you to dock your Citybike when you return home from your journey. This is an important development for Citybike."
One of the new stations is placed outside a Bankfield Road gym and is set to encourage fitness enthusiasts to cycle to and from the gym instead of driving. Debbie Walsh, a customer assistant at the Peter Lloyd Lifestyles gym, told JMU Journalism: "Without a doubt, I really think the Citybike is a brilliant idea – it keeps people active, especially being here at the gym it's encouraging.
"It is very busy around here anyway and I've noticed a lot of them missing from the station. They've only been here a few days so they're getting used quite a lot."
The Citybike scheme, which is a Liverpool City Council initiative, was part-funded to the tune of £1.5 million by the Local Sustainable Transport Fund, and the proceeds go towards the improvement of environmentally-friendly transport links in the city and wider boroughs.
There are now over 120 Citybike stations with 650 bicycles in Liverpool, which cost £3 per day, £9 for a week or £60 for a year, with a special discounted price for students and corporate membership for businesses.