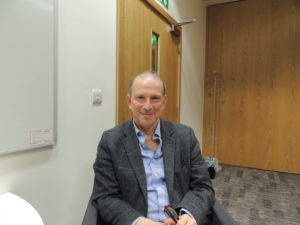 Liverpool has been given a 'poetry prescription' for its 'literary malnourishment' by the founder of a leading poetry prize.
William Sieghart, founder of the Forward Poetry Prize, dished out his treatment to the poetically deprived during an intimate event at Liverpool Central Library last Monday night.
The publisher opened up his consultation to a group of 20 poetry amateurs with his topic of discussion ranging from struggling poets to the impact poetry can have on people.
He told JMU Journalism: "Finding words that can help you with life's difficulties can make all the difference. I think the thing I've learnt the most out of all of this is that everyone is lonely."
Those who attended Sieghart's talk on where there for a personal insight into poetry and a one- to-one chat with the publisher, so he could prescribe a poem that would related to them.
"I try and find poems or sayings or writings which in a way can help people get through the tricky business of being us," he said.
The poems are intended to 'help patients to see the miraculous in the commonplace – medication for successful life survival.'
Sieghart started his own publishing company when he was in his 20s, discovering poetry because he was miserable. He said: "Poetry was my only friend."
He went on to found the 'Forward Poetry Prize' for poets along with pioneering 'National Poetry Day'.
He said: "I came up with National Poetry Day as a sort of gimmick – and attempt to get people to be poetic. A lot of people say they don't know how to read poetry. People are scared of poetry. But it is all around. It is our greatest export to the world."
Sieghart has carried out his 'Poetry Prescriptions' throughout the country, believing that one of the greatest things we can take away from poetry is peace of mind.