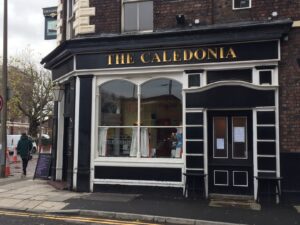 A Liverpool pub has been given an award for its special treatment of hounds after thousands voted online.
The Caledonia was named the North West's most dog-friendly pub following nominations and voting on a blog called DogBuddy.
Laura King, the owner of the pub, was pleased with the news and told JMU Journalism: "I'm really excited that we have been given this award. It's nice to recognise the hard work that the staff and our regular pub customers put in to make all our dogs welcome."
Many other city pubs and bars take a different view when it comes to allowing pets to cross the threshold, but Laura said: "For me, dogs are part of the community so we embrace them in the same way that we embrace people and it's great to be recognised for that."
The pub is located near the two universities on Caledonia Street, which is a short walk from the Philharmonic Hall.
Ruth Sheffer, on the DogBuddy website, said: "Being a London girl it's so nice to go to a homely pub. One of my best friends lives round the corner and when I'm in Liverpool we go. It's so great for him to be able to take his pooch and be welcomed."
The Caledonia treats dogs that walk through its doors just like customers, but also offers free treats.
DogBuddy says of its winner: "The Caledonia is so well known for being dog-friendly that non-dog-owning regulars apparently arrive with pockets stuffed full of treats and chews."
Back in September, DogBuddy launched the dog-friendly awards and more than 400 votes were cast for the pub.
There is a chance that The Caledonia could be named the UK's most dog-friendly pub in the final round of voting.
YouTube: Caledonia pub via SMARTSM
https://www.youtube.com/watch?v=-AQLd78Z6lM