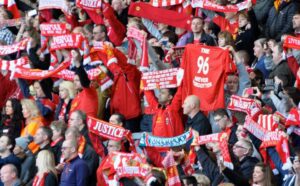 The city of Liverpool came to a halt in silent tribute today to honour the 96 LFC supporters who lost their lives at Hillsborough, on the 25th anniversary of the disaster.
While an estimated 25,000 congregated at Anfield for the memorial service, other events commemorated the tragic events of April 15th, 1989.
A minute's silence was held throughout the city at 3:06pm, the time at which Liverpool's FA Cup semi-final against Nottingham Forest was stopped on that fateful day. During the silence, public transport, including the Mersey Ferry, came to a halt and the river tunnels were also shut.
In the city centre, shoppers halted in their tracks with heads bowed and council buildings flew their flags at half-mast, while the Lime Street media screen displayed a collective image of the Hillsborough victims between 2pm and 5pm.
Several churches throughout Merseyside, including the Anglican Cathedral, rang their bells 96 times as a mark of respect for each victim.
At Goodison Park, the home of Liverpool's football neighbours Everton, the memorial service was screened live. Everton chairman Bill Kenwright, captain Phil Jagielka and Leighton Baines all gave readings to Blues fans. It has been confirmed that a tribute to the Hillsborough victims will be unveiled at Everton's ground later in the year.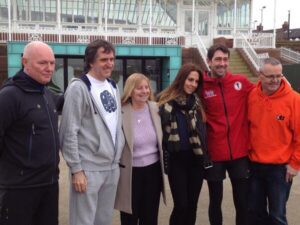 On Sunday, a new running event organised in memory of the the Hillsborough victims was announced. The 'Run for the 96' 5k will take place in Stanley Park next year.
It was thought up by Dom Williams, who also devised the fundraiser in which a team of runners travelled 96 miles between Anfield and Hillsborough over three days.
He said: "We started the Hillsborough-Anfield Run three years ago as our small way of trying to do something to raise funds in the fight for justice for the 96.
"We are delighted to be working with BTR Liverpool to organise and host next year's 'Run for the 96' 5k race as a way of staging an event to engage people for them to participate in and remember the 96 fans lost. And we are delighted to have the support of the Hillsborough families to stage such an event."
The new inquests into the deaths being held in Warrington have been adjourned for a week following a series of moving personal statements by the victims' families which will recommence when the proceedings resume on April 22nd.
Hillsborough 25th anniversary memorial service report >>
Additional reporting by Ida Husøy, Nick Seddon & Jack Maguire