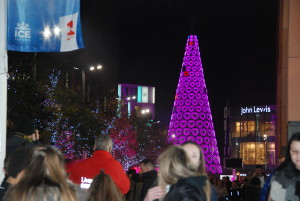 Thousands gathered in Liverpool on Friday to watch the unveiling on the UK's tallest Christmas tree and the official switch-on of the city's festive lights.
The 8,000 strong crowd watched on as the 23-tonne structure made up of 280 heart-shaped lights, 314 light rods and 2,000 metres of cabling was switched on to mark the beginning of Christmas festivities at Liverpool One as part of their 'One Magical City' campaign.
There was a veritable feast of entertainment for passers-by with live-music, stilt-walkers, ballroom dancers, pantomime performances and even a visit from Father Christmas – all culminating in a light show at the tree that took a team of six engineers two weeks to build.
Not everyone enjoyed the evening as Charlie Stewart, 42, from Liverpool told JMU Journalism: "I've just left work and it's taken me half an hour just to get down the street, getting run over by prams the whole way!"
But Josh Morton, 25, from Sandbach said: "It's great to see the way the community really gets into the Christmas spirit."
Making their way through Liverpool One, onlookers were handed Christmas crackers which contained prizes ranging from £500 spending money to discounts in high street stores.
Thomas Henry, 26, from Huyton said: "Considering we all spend so much time and money in the city centre and in Liverpool One, it's nice to see them giving something back."
The light show reached its climax as fake snow and confetti fell and the sound of thousands singing along to Mariah Carey's 'All I Want For Christmas' tune could be heard across the city.
Brothers Charlie and Callum McMahon aged five and 10 respectively, said it was the best night of their lives and thought "the snow was magical".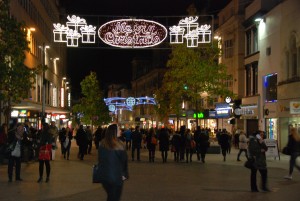 The switch-on is just one of dozens of events due to take place in the city over the winter period.
The Ice Festival has returned to Chavasse Park with a skating rink, fairground rides and the UK's largest real ice slide. There will even be a snug après ski style bar where patrons can enjoy a hot chocolate, egg-nog or mulled wine.
Donna Howitt, Marketing and Business Performance Director at Liverpool ONE, said: "Christmas is all about making iconic memories, especially for children, something that will last with people for a lifetime. We hope we've achieved that this year."