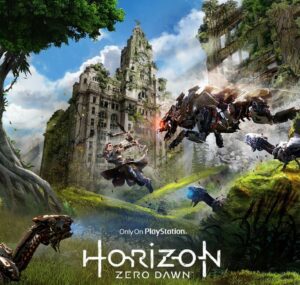 The city of Liverpool has been strikingly re-imagined in a post-apocalyptic world as part of the promotion for a new video game.
Upcoming PlayStation 4 exclusive, Horizon Zero Dawn, is using Liverpool's famous waterfront landmarks to promote the game as it nears its March 1st release.
Concept art released by PlayStation UK shows the remnants of the iconic Liver Building under attack from a race of animalistic robot creatures.
It's even accompanied by a Scouse-themed tweet from the company: "Keep Dixie for them robots out there la. #Liverpool."
Unfortunately for us native Scousers, the Liver Building won't actually appear within the game itself, but the art shows us what the famed dockside structure would look-like within the Zero Dawn universe.
Horizon Zero Dawn revolves around a girl named Aloy, who lives in a world that has been overrun by robots. The 'Machines', as they are known, have taken over and are the primary enemies in the open world role-playing game.
Although the game has yet to hit stores, it has already been met with critical acclaim and won the 'Best Original Game' at the Game Critics Awards 2016 and 2015. Horizon Zero Dawn has also been nominated for accolades at the Golden Joystick Awards and The Game Awards in 2016.
Keep Dixie for them robots out there la. #Liverpool pic.twitter.com/pjWLKOTE5d

— PlayStation UK (@PlayStationUK) February 26, 2017
'To keep Dixie" in Scouse lingo refers to keeping an eye out and apparently comes from the saying "Dixie Dean is Never Seen". In this case the character is watching out for the machines that now lurk through Liverpool.
The PR stunt has evidently gone down well with Merseysiders as the tweet was met with much fanfare.
@PlayStationUK ok you win! I just preordered it

— Ash Roberts (@AshRoberts91) February 26, 2017
@PlayStationUK Scouse DLC?!

— Carl (@thejackal2008) February 26, 2017
@PlayStationUK boss tha

— ian (@redian1973) February 26, 2017
Developers, Guerilla Games, who are behind the open-world shooter are no strangers to the scene, having created and nurtured the successful Killzone series.
A Guerilla Games spokesperson said: "In a lush, vibrant, post-apocalyptic open world, colossal mechanized creatures roam a landscape that they have torn from the grip of mankind. Human evolution has, over time, regressed to a tribal hunter-gatherer existence, surviving amongst towering forests, imposing mountain ranges and the atmospheric ruins of a bygone civilization – while the savage machines have become all-powerful."
Other concept art released by the company also shows many other UK cities if they were left in ruin; including Manchester, Birmingham, London and Edinburgh.
YouTube: Horizon Zero Dawn Trailer
https://www.youtube.com/watch?v=RRQDqurZJNk