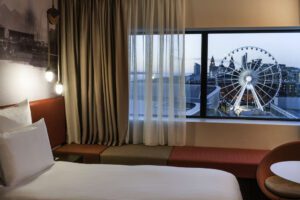 Two of Liverpool's top hotels have featured in the Sunday Times list of 'Ultimate 100 British Hotels'.
The fourth edition of the top 100 features both the Pullman and the Titanic Hotel from Liverpool's Docks area, and this is the second year running in which two hotels from the city have featured, indicating the growing reputation of the area's regeneration projects.
Adjoined with the Exhibition Centre on Kings Dock, The Pullman is situated closer to town than the Titanic. Built for £26 million earlier this year, the hotel is part of the ACC Liverpool development on Kings Dock.
YouTube: Hotels in Slides
The Sunday Times paid homage to the hotel's views, saying: "From some of the 216 rooms, you can see Anfield and the mountains of Snowdonia. Those without the stellar views have classy black-and-white images of the docklands."
Neil Brailsford, General Manager of Pullman Liverpool, was delighted with the accolade, saying: "To have received this national recognition while we are still in our first year of service is fantastic and is a credit to the staff here at Pullman Liverpool.
"We hope to continue to add to this success and we look forward to welcoming many more guests to Pullman Liverpool in the future."
Further up the Mersey coast at Stanley Dock, the Titanic Hotel also made it into the top 100, within the 'City: urban legends' section.
YouTube: Titanic Hotel Liverpool
The hotel was created on the derelict site of the North Warehouse which was built in 1864 but was heavily damaged during air raids in World War II. Now, however, the Titanic Hotel resides within a stylish construction large enough to house 153 rooms with an industrial-chic interior.
Transformation of the Grade II listed building finished in 2014 and the regenerated site now features the hotel, Rum Warehouse Exhibition Centre, as well as a restaurant and spa.
The Sunday Times said in its article: "It takes chutzpah to name your hotel after the world's most famous maritime disaster."
Hotel of the year went to Painswick, a stately home in Gloucestershire.