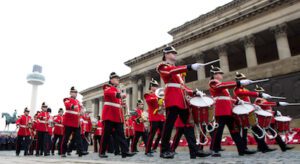 Silence fell across Liverpool at 11am on Sunday – just as it did on Armistice Day on Thursday – as people all over the city came to a standstill for two minutes to honour our fallen soldiers.
Hundreds of people lined the streets around the Cenotaph outside St George's Hall on Remembrance Sunday to pay their respects to the war dead as The Band of The Duke of Lancaster's Regiment and Danielle Thomas played and sang before the service began.
On the 70th anniversary of the city's devastating Blitz bombing raids, brave ex-servicemen gathered to join a crowd from all walks of life in a silent tribute, as planes flew overhead in commemoration.
The service started at 10.55 am with The Lord Bishop of Liverpool, The Right Reverend James Jones, talking of the loss the country has felt over the years, and how the fallen soldiers will always be remembered.
The Bishop of Liverpool also said: "Today marks the sacrifice for all that died for our freedom on the day that marks the 70th anniversary of the May Blitz. We will remember the sons and daughters, sisters and brothers, fathers and mothers and the brave friends and comrades who laid down their lives for us."
The County President of The Royal British Legion, Sir Alan Waterworth, led the act of remembrance before a gunshot was fired to signal the beginning of the two minutes' silence.
Wreaths of poppies were then laid by officials, during which a lament was played, followed by Prayers of Thanksgiving and Re-dedication were then read by the Archbishop of Liverpool, The Most Reverend Patrick Kelly.
The service ended with the congregation singing the National Anthem, followed by a parade down Lime Street by the servicemen, including the Royal Marines and Royal Navy. This was met by warm applause from the watching public.
Remembrance Day was marked on 11/11/11 as bells rang out across Liverpool, with shoppers in the city stopping and bowing their heads in respect.  A service, led by the Lord Mayor of Liverpool, Councillor Frank Prendergast, was held at St George's Hall.