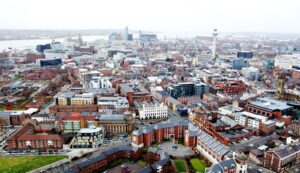 Liverpool's economy has been boosted by more than £9 million this year due to the number of films and television shows that are choosing to shoot in the city.
According to a report compiled for Liverpool City Council, the Liverpool Film Office has supported 170 productions from January to October of this year including TV hits such as 'Cilla', 'Peaky Blinders' and 'Our Zoo'.
Film Office manager, Lynn Saunders, told JMU Journalism: "This has been an incredibly busy year for us and we are delighted at the number of high-quality productions we have hosted which are a fantastic promotion for our world-class locations."
In the past, blockbusters including 'Harry Potter and the Deathly Hallows', 'Fast and Furious 6' and 'Captain America: The First Avenger' have all been partially filmed in Liverpool.
The success follows the launch of a creative commission earlier this year which plans to review how the area can maximise its creative potential. It is led by Huyton screen writer Phil Redmond, famous for creating soaps such as Hollyoaks, Grange Hill and Brookside.
Saunders continued: "Each year, the task of attracting the industry here gets more difficult as other cities are vying for a piece of this lucrative business, knowing that the economic benefit, along with the other jobs and tourism related opportunities are invaluable."
'Foyle's War', one of ITV's most popular dramas is set to come to Liverpool next year.
The producers have chosen to start filming in the city in January after years of filming in Ireland. Although there was stiff competition from other locations, Liverpool has been chosen as the city to mimic the streets of London.
Saunders concluded: "We don't rest on our laurels and we're already working on some big opportunities for next year, so we hope that 2015 will be another bumper year for the Film Office."