Men, women and children of all different cultural backgrounds joined forces in Liverpool to protest against the recent killings in eastern Ghouta during the ongoing Syrian civil war.
The conflict will enter its eighth year next month and members of the public were out in force in Liverpool on Sunday to demonstrate against the deaths of 500 unarmed residents in the Damascus suburb during Russian and Syrian bombardments.
A wall of Syrian independence flags, banners and posters were all on show on Church Street, with the message of #SaveGhouta primarily being on show. Native music was also being played, with around 50 to 100 people speaking and chanting to stop the slaughter during Bashar al-Assad's regime.
Mo Adrees, 28, a participant in the demonstration, told JMU Journalism: "The protest is about raising awareness against the murders of innocent people in Ghouta. It makes me angry and upset watching the devastating scenes on the news so I felt it was only right for me to be here.
YouTube: James Farrington
"There will be people walking past us today who won't know there is conflict in Syria so it is vital we spread our message of Save Ghouta. The more people that know the truth about what is going on can only be a good thing.
"The attacking on schools and hospitals has to stop. All we want is peace."
Syrian regime forces launched air offensive against rebel positions in eastern Ghouta in defiance of a nationwide ceasefire ordered by the United Nations Security Council.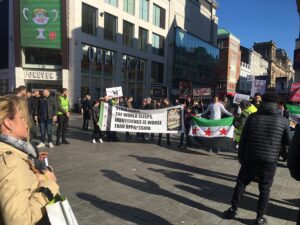 Vladimir Putin, President of Russia and supporter of President Assad has faced western criticism over what is perceived as Moscow's attempts to delay passage of the ceasefire resolution.
Many countries, including the UK and the US, claimed that Russia was delaying time in order to allow Assad the opportunity to complete the reconquest of eastern Ghouta.
In September 2015, Russia carried out its first air strikes in Syria saying they targeted Islamic State-held territories, however tension was raised when the west and Syrian opposition claimed they targeted anti-Assad rebels.
On Saturday, the UN Security Council unanimously passed a resolution demanding a nationwide cessation of hostilities. Russia has since agreed to a daily five-hour halt to the conflict to allow humanitarian assistance efforts to proceed.
Additional reporting by Anisah Arif