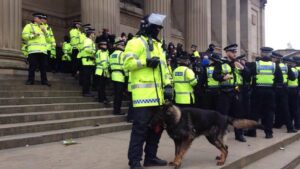 A demonstration in Liverpool city centre turned ugly today as violence erupted and a number of arrests were made.
'Nazi scum, off our streets' was the chant by counter-protesters as far-right group North West Infidels staged a demonstration outside St George's Hall.
The atmosphere grew increasingly hostile as bricks, bottles and flares were thrown between the group and a large gathering of observers and anti-fascist protesters.
The North West Infidels wrote on their Facebook event page that they were staging the demonstration in order to exercise their "democratic rights to freedom of expression, speech, movement and assembly".
Swastikas were spray-painted on the walls of St George's at one point as members antagonised the baying crowd with Nazi salutes and hand gestures. The crowd around Lime Street grew to several hundred and the demonstrators later dispersed.
The plateau between the Walker Art Gallery and St George's was vandalised as protesters uprooted heavy cobble stones and used them as missiles. There were several injuries and Merseyside Police have confirmed one of their officers was taken to hospital suffering from concussion.
The far-right group spent a majority of the afternoon hemmed into a corner behind the columns of St George's Hall surrounded by police in riot gear.
It was a tense stand-off as the officers attempted to clear a way to escort the group to Lime Street Station. Scenes took a turn for the worse as the crowd moved with anti-fascist protesters lining the street and hurling missiles.
There were cheers as members of the North West Infidels were eventually led off by police.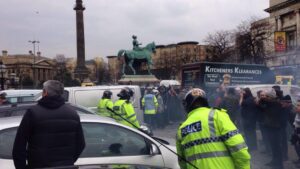 Cars parked in the area were damaged and city centre businesses came to a standstill. The newly-opened Wetherspoons had to shut its doors as chaos ensued outside.
Mayor Joe Anderson condemned the protest, tweeting: "Northwest infants [sic] bring dishonour on the human race."
Peaceful anti-fascist protester, Anthony Horton, told JMU Journalism: "I'm just down here to show my support because we're a city of culture, and we want to unite and be a whole as human beings, instead of saying 'blacks aren't welcome' or 'Chinese aren't welcome'. We should all be one."
The clean up effort has already begun as the area around St George's is covered in debris and litter.
Photo galleries by Leigh Kimmins. Click on a thumbnail to enlarge the images