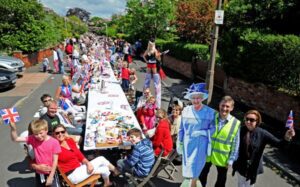 Liverpool's streets were turned into a blaze of red, white and blue as the Queen's Diamond Jubilee was celebrated in style.
Street parties and events were held across the region in recognition of her sixty-year reign on the throne.
Many roads were decked out with bunting and balloons to help provide a carnival atmosphere as young and old joined forces to raise a glass to the second longest-serving monarch in history.
Adjoining tables formed the centre-piece of Anfield's Brayfield Road as residents came out in force.
Wearing Union Jack-emblazoned hats and waving flags the celebrations included residents sitting down to a host of baked delicacies.
A special afternoon tea was held in Allington Street in Aigburth with the whole street taking part amid a sea of Union Jacks.
Similar scenes were witnessed in Canterbury Street in Garston and Orford Street in Wavertree as Scousers across the city toasted the Queen's enduring reign.
Liverpool's Lord Mayor, Councillor Sharon Sullivan, felt it was the Queen's recent visit to the city which cemented her place in the hearts of Liverpool residents.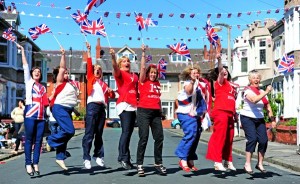 She said: "Liverpool people have a real warmth and admiration for the Queen and the Royal family. This was demonstrated by the numbers who came out to greet her Majesty and the Duke of Edinburgh on their recent visit to the city only a few weeks ago."
Cookery school Can Cook ran a series of workshops in Chavasse Park, where the Big Lunch took place, to allow people to cook with a royal flavour.
Robbie Davison, of Can Cook told the Liverpool Echo: "We're doing Coronation chicken curry, which always goes down well, and royal rhubarb crumble, which is a bit rich but is a treat."
The build-up to the four-day celebration saw heavy rain lash the region but party organisers showed typical defiance despite the appalling conditions which threatened to put a dampener on proceedings.
Valerie Watson, who organized a party in Carter Street, Toxteth, said: "We won't let the weather stop us – we are still going to have a party. People are making the sandwiches, we are hanging out the decorations. We're holding off putting the best tables out until the last minute but nobody is losing faith."
Beacons were lit on Monday to mark the weekend's celebrations with a further 4,000 blazing across the country.
The Queen will light the final beacon at the end of a star-studded concert in her honour at Buckingham Palace on Tuesday evening.