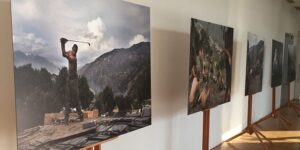 Award-winning photojournalist Tim Hetherington's 'Infidel' exhibition had an emotional opening in Liverpool  this week.
The exhibition, being held at LJMU's John Lennon Art and Design building, features moving and intimate images of American soldiers stationed in Afghanistan.
Tim, who was killed by a mortar strike in Libya in 2011, documented the experience of war from the perspective of the individual, developing an alternative outlook on war photography.
Guests from the worlds of media, the arts and academia were invited to a launch event, attended by Tim's parents Judith and Alistair, yesterday.
Judith said: "I am reminded always when I see Tim's pictures of his ethos and maxim about witnessing. He felt like he had a duty to witness.
"But not just a duty to witness and move on, he felt that he had to use that witnessing to effect change. He was keen that his witnessing turned into action to make the world a better place.
"I think when looking at his photographs we can see how he could translate them into some sort of action."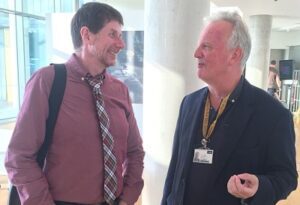 Guest speaker Stephen Mayes, executive director of the Trust set up in Tim's name, told the invited audience at the launch:  "The last time I talked to Tim he said this wonderful metaphor of how easy it is to focus on the hardware of war, because it is there and it is obvious.
"It is there in the uniforms and in the equipment. He said that it is not the hardware that actually runs war, it's the software. The software is the young men.
"Tim was the operating system."
Tim was killed while working among the conflict of the Libyan Civil War, and the Tim Hetherington Trust was established to preserve the legacy of his professional work.
New York-based Stephen, who had flown to the UK for the launch, continued: "He moved away from those pictures of the phosphorus bombs to very gentle, almost idyllic pictures.
"He recognised that these guys are pretty much at peace – they are at war, but they are at peace with themselves.
"They are having a good time and from that he began to explore the other dynamics of what happens in conflict."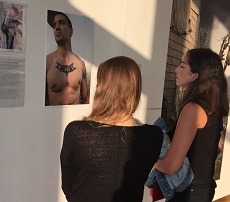 The Liverpool-born photojournalist aimed to project a deeper understanding of the causes and origins of violence, which guided him through the roles of a photojournalist, artist, film-maker, leading thinker in media innovations and a human rights advocate.
LJMU, in partnership with Index on Censorship magazine, has set up a Fellowship for its journalism students, and the current LJMU Tim Hetherington Fellow Kieran Etoria-King attended the launch.
He explained how much the award meant to him, and how he intended to pursue Tim's aims of integrity and compassion in his reporting.
'Infidel' by Tim Hetherington, which is presented by the Journalism Department of Liverpool John Moores University, is on at the John Lennon Art and Design building, Duckinfield Street, weekdays until September 23th, 10am-5pm. Admission is free.