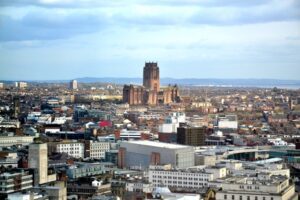 The number of people diagnosed with coronavirus in Liverpool has risen to five and the city is preparing to deal with a larger outbreak as cases continue to grow across the UK.
One of the latest local individuals to be diagnosed with Covid-19 is a known contact of an existing patient and is currently receiving specialist treatment. A fifth was identified later on Monday.
Due to the rapid rise of infections, there has been speculation that football matches and large public gatherings could be affected in the same way that they have been in Italy, the epicentre of Europe's most serious outbreak.
Liverpool are edging closer to winning the title for the first time in 30 years, but it is possible that part of the rest of the Premier League season could be played behind closed doors.
However, with discussions between government and football officials due to take place, Culture Secretary Oliver Dowden said: "It is very premature to be talking about things like that."
Some fans have also paid extraordinary prices for hotels and flights to attend a potential victory parade in the city on May 18 if Liverpool do seal the league, but that may now have to be scrapped.
A school in the Wirral was closed last week due to a parent of a pupil testing positive after returning from Italy.
YouTube: Adam Higgins
Liverpool John Moores University also cancelled a trip for third year Criminology and Psychology students to Slovenia due to the current travel uncertainty.
As the disruption grows, supermarket shelves are starting to become empty of essential and basic goods, with customers resorting to panic buying.
The government has advised that there would be no need to stockpile, however items such as toilet roll and hand sanitiser are selling out.
Liverpool Mayor Joe Anderson, who last week chaired a high-level Town Hall meeting to discuss the virus, confirmed that the city is officially preparing for a possible pandemic.
He said: "What we are doing is listening to the government about a national resilience strategy. We also have one locally.
"What we want to now do is make sure communities are protected as well and actually making sure that everybody in those communities are looked after and making sure that not only that they get the support and help that they need, but we help contain the virus.
"The bottom line is we believe we have got a really good resilience plan in place."
Mayor Anderson will reconvene the special gathering of experts and local officials to discuss coronavirus next week.
Twitter: Liverpool City Council
#VIDEO| @mayor_anderson and Dr Fiona Lemmens from @liverpoolccg stress how strong local partnerships in #Liverpool are aiding the city's resilience strategy to cope with #Coronavirus and provide the best advice for residents. pic.twitter.com/4rpOjUwWrm

— Liverpool City Council (@lpoolcouncil) March 4, 2020
Additional reporting by Adam Higgins