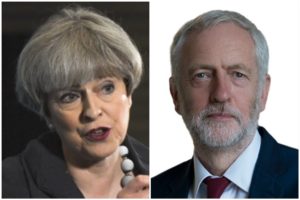 Prime Minister Theresa May watched her House of Commons majority disappear as the General Election produced a hung parliament, with Liverpool voters sending their five Labour MPs back to Westminster after a campaign of personal vindication for party leader, Jeremy Corbyn.
The Conservatives won the most seats overall, claiming 318 in the national ballot, but fell short of the 326 required to produce a working majority.
The Tories will now seek to form a new minority UK Government without the decisive victory that PM May had gambled on when she called an election barely two years after the last one.
Liverpool results
Riverside (turnout 62.9%)
Louise Ellman (Labour) 40,599
Pamela Hall (Conservative) 4,652
Stephanie Pitchers (Green) 1,582
Tom Sebire (Liberal Democrat) 1,187
West Derby (turnout 69.3%)
Graham Hughes (Independent) 305
Paul Parr (Liberal Democrat) 545
Steve Radford (Liberal) 2,150
Paul Richardson (Conservative) 4,463
Stephen Twigg (Labour) 37,371
Will Ward (Green) 329
Walton (turnout 67.3%)
Kris Brown (Liberal Democrat) 638
Dan Carden (Labour) 36,175
Laura Evans (Conservative) 3,624
Colm Feeley (Green) 523
Terry May (Independent) 1,237
Wavertree (turnout 69.9%)
Luciana Berger (Labour) 34,717
Ted Grant (Green) 598
Denise Haddad (Conservative) 5,251
Adam Heatherington (Independent) 216
Richard Kemp (Liberal Democrat) 2,858
Garston & Halewood (turnout 71.1%)
Lawrence Brown (Green) 780
Maria Eagle (Labour) 41,599
Adam Marsden (Conservative) 9,450
Anna Martin (Liberal Democrat) 1,723

Labour's share of the vote increased in all the Liverpool seats since 2015, with landslide victories for the returning MPs Louise Ellman, Stephen Twigg, Luciana Berger and Maria Eagle, and newcomer Dan Carden taking over from the City Region Metro Mayor, Steve Rotheram, in Walton.
The Wirral seats all remained Labour red, though Southport was the only place on Merseyside to produce a Conservative win as Damien Moore ousted Sue McGuire of the Liberal Democrats.
After backing the Tories to increase their grip on the Commons, Mrs May's failure to do so means her position as Prime Minister looks likely to come under pressure.
Elsewhere, Bootle-born Paul Nuttall's leadership of UKIP ended with his formal resignation after a disastrous night for his party where its share of the vote plummeted and he finished a distant third place while standing in the Boston & Skegness constituency.
Mrs May said: "At this time, more than anything else, this country needs a period of stability. If, as the indications have shown and if this is correct that the Conservative Party has won the most seats and probably the most votes, then it will be incumbent on us to ensure we have that period of stability, and that is exactly what we will do."
Mr Corbyn said: "The Prime Minister called the election because she wanted a Conservative mandate. Well, the mandate she's got is lost Conservative seats, lost votes, lost support and lost confidence. I would have thought that's enough to go, actually, and make way for a government that will be truly representative of all of the people of this country."
A state of uncertainty surrounds political life in the United Kingdom once more, following last year's shock Brexit vote, the negotiations to leave the European Union, and now a hung parliament with the Conservative Party trying to cling onto power.
Many pundits have already speculated that we may well witness another General Election long before the five-year term is out, with a further poll looking possible in a bid to bring clarity to the business of government.
YouTube: BBC News