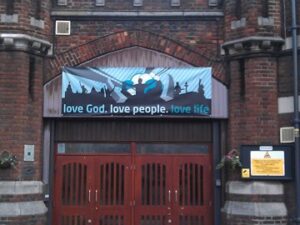 The Liverpool church in the middle of a homosexuality row has spoken out over articles which it claims make "misleading" comments about the church and its practices.
The Frontline Church in Wavertree is a very active part of its local community, and the discovery of a 'Homosexuality Fact Sheet' on its website has led to controversy, with several local and national news outlets picking up on the story and claiming that they are trying to 'convert' people from gay to straight.
Gay rights groups have labelled the church's views as from the 'Dark Ages', although the church says this is purely misinterpretation. After releasing a short statement on Tuesday, another longer, more detailed, statement has now been published on the church's website.
It says: "We run an internal pastoral support group for church members who share our Christian faith and have requested support specifically relating to their sexuality. This does not seek to 'convert gay people' and in no way have we ever knowingly forced our views on anyone.
"We share the conviction that it is wrong and counterproductive to attempt to force anybody to change their sexual orientation. And in no way do we ask people to 'repress their sexuality'."
The response also features a comment from an anonymous churchgoer, who states that the social workshops offered by the Frontline actually helped them with regards to their sexuality.
The offending 'Fact Sheet' has now been removed from the Frontline website, although some of its controversial statements, such as: "We do not believe people are born homosexual, but that it is a result of dealing with pain from childhood" will already have done their damage.
In a city with a popular gay district and an annual gay pride celebration, along with the 'Homotopia' festival which is currently running, the publicity this news has received will surely come as a massive blow to the church's reputation.
Organisations which base themselves at the church, such as Foodbank, are reported to have pulled their support, however the church attempts to reconcile its differences with the public in its final statement.
The Frontline Church states: "We want to apologise for causing offense by the language contained within the 'Homosexuality Fact Sheet' which we took the decision to remove from our website because it does not accurately express our views on this matter. We are a people-focused church and seek to value and serve all people in every way we can.
"We hope that our critics will treat our views and those of our church members with the same respect we extend to others."