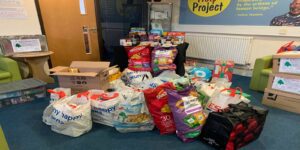 With Christmas proving a financial burden for many local families, help is on hand with an initiative that aims to help provide relief as well as sustenance.
The Knowsley Foodbank helps feed over 9,000 people each year, with half of the people in need being children. This high demand means the charity needs over one and a half tons of food a week.
With the festive period quickly approaching, the Big Help project, a charity working in conjunction with the local foodbank, has been asking the community to get involved in making sure everyone gets a meal this Christmas, with their reverse advent calendar scheme.
The concept of the calendar is to change the tradition of receiving an item each day of December, and instead encouraged people to donate food throughout November. The foodbank will then provide it to people who require it.
The project officially ended last Friday, but that hasn't stopped the local community from continuing to drop off large quantities this week. It has also been widely spread on social media, using the hashtag #reverseadventBHP.
YouTube: Jose Ruiz
Sue Torpey, assistant chief executive of the Big Help Project and manager of Knowsley Foodbank, told JMU Journalism: "We are feeding people, half of which are children, stuff that they would not normally have otherwise.
"Having everything posted on social media has made a huge difference. This morning we had Liverpool's European Cup in here, filled with reverse advent calendar food to help promote it, so it's been phenomenal."
The charity's warehouse has been overflowing with food varying from tinned goods like soup, and sweet treats such as biscuits.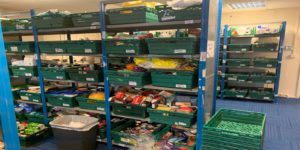 The Knowsley Foodbank manager was glad to see the necessities from the list covered, with Sue adding: "It's lovely to have chocolates and Christmas puddings, but if actually we haven't got milk and potatoes then we are going to struggle.
"It's really good that it covers all our basics whilst still bringing in lots of Christmas goodies."
Ms Torpey told JMU Journalism just how vital people's donations are, saying: "It's extremely important. I've just spoken to someone now on the phone who hasn't eaten in three days, I've just got some food to her now.
"She was crying. She's got no gas or electricity, but she's got food that she can now cook at her neighbours. That's the sort of thing we are doing, everyday feeding people who literally are hungry."
If you would like to donate to the Knowsley Food Bank, items can be dropped off at their warehouse at Link Road Depot, Link Road, Huyton, L36 6AP.