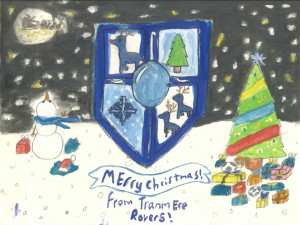 Christmas has come early this year for 12-year-old Anyah Kent, who has won Tranmere Rovers' Christmas card competition.
The card (pictured right), which was chosen as the best among dozens of entries,  will be on sale in the TRFC club shop and online this week.
The winning card features a modified Christmas version of the Tranmere Rovers FC badge. The three lions, star and tree have been replaced by three reindeer, a snowflake and a Christmas tree.
Anyah, of Wallasey, was at school when she heard the news. She told JMU Journalism: "I couldn't talk. Everyone started clapping, it made me feel really happy. I just like drawing. My family are proud, everyone's so proud of me."
Many of Anyah's friends also entered the competition and she admitted: "They were jealous. Usually they want me to draw for them, but I said 'No, I need to my own card'. I'd like to be an art teacher when I'm older."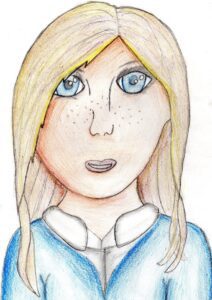 Anyah is no stranger to winning competitions. After working all summer on their front garden, she and foster carer Lynne entered 'Wirral's Best Garden'. She said: "We worked really hard and we won in our category, and then won the overall trophy. I was so shocked."
Lynne Gamlin, Anyah's foster carer, told JMU Journalism: "I'm absolutely chuffed to little mint balls for her. When I went on their website and I saw it in full-blown colour with her name on, I was so proud. I put it on Facebook for all my friends and family to see."
Lynne first noticed Anyah's artistic talent when she drew a self portrait, which now hangs in their home, (pictured bottom right). She said: "I saw it and I thought, this child has got something. She's got talent. That picture is so like her, it's unreal.
"I've told everyone I know, if you're a Tranmere Rovers fan or not, you're getting this Christmas card. I don't usually send many cards out, but this year I'll make an exception. We're all really pleased."