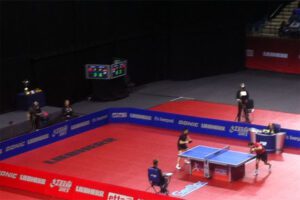 The people of Liverpool had the chance to watch the world's top table tennis players in action at the Echo Arena this weekend as the 33rd Liebherr Men's World Cup was held.The tournament consisted of an elite group of 19 players, made up from the Olympic and world champions, intercontinental champions and the highest ranked players.
China continued their world dominance of the sport as superstar Ma Long won his first gold in this event. The 23-year-old, currently ranked as the world number two, showed different class in the final, winning four straight sets against the German champion, Timo Boll.
Ma Long had surprisingly lost 4-0 in his first match of the tournament, against Taiwanese Chuang Chih-Yuan. He showed magnificent form after this, and came into the final after winning the rest of his matches by 4-1, 4-0, 4-0 and 4-0.
It's only eight weeks since he won Olympic team gold in London, and the former number one ranked player seems to enjoy playing in the country where the game was invented. He and fellow countryman Xu Xin had most of the support from the crowd during the finals, as approximately 1,000 turned up to watch the sport.
China were huge favourites before the tournament, but the European players can look back at the tournament positively, with Timo Boll coming second, and 36-year-old Belarusian Vladimir Samsonov picking up the bronze after an impressive victory over world number three, Xu Xin.
Richard Yule of the English Table Tennis Association told JMU Journalism: "It's an illustration of how strong the Chinese are at the moment. Ma Long, who didn't play in the singles in London at the Olympic Games, is still capable of beating the best players in Europe. China is quite clearly the best nation in the world.
"It was a very nice presentation for the sport here in Liverpool, and for us, the English Table Tennis Association, we're very pleased with the event," said the ETTA chief executive.
The host nation had two players in the tournament, but neither Paul Drinkhall nor Liam Pitchford managed to win any of their matches in the group stage.