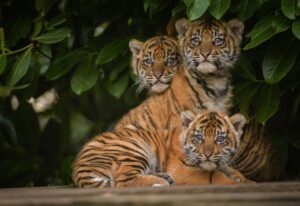 Chester Zoo is the most popular paid-for attraction in England outside of London for the fourth year running.
Figures released by the Association of Leading Visitor Attractions (ALVA), which represents the UK's most popular attractions such as iconic museums, galleries, zoos and castles, show that the zoo was visited by 1,432,867 visitors in 2014 – a record for the zoo.
Chester Zoo's managing director Jamie Christon said: "2014 ended on a real high with the busiest year in our history and we're off to a flying start in 2015. Time and again the zoo excels in delivering a great day out for its visitors.
"This year is a ground-breaking year for the zoo too with the opening of our new development Islands. It's the biggest zoo development of its kind in Europe providing a window on the world of conservation in South East Asia."
Islands, which opens in June, will recreate habitats from six areas in South East Asia – Panay, Papua, Bali, Sumatra, Sumba and Sulawesi – and provide a home for a number of animals classed as critically endangered in the wild. These include Sumatran tigers, Sumatran orangutans and Visayan warty pigs.
Christon said: "Islands will drive visitor figures up even further and bring the zoo to a whole new audience. We couldn't be more pleased with where we are at today and have a lot to look forward to this year."
The zoo was opened in 1931 and became a conservation charity in 1934, surviving World War II when it played a vital role in taking care of evacuated animals from all over the country.
In 1989, Princess Diana visited the zoo and there was a visit from the Queen in 2012.