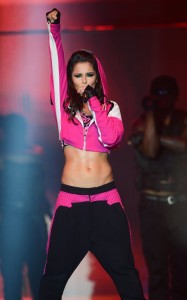 Pop songstress Cheryl Cole put on a spectacular show as she brought her 'A Million Lights' tour to the Echo Arena last night.
Cheryl, 29, made her entrance in style, as she swan-dived into a production filled with bright lights and fireworks, wearing a shimmering gold outfit that highlighted her figure.
She kicked proceedings off with the song 'Sexy Den a Mutha'. After which, she launched into the lead single from her album, the Calvin Harris produced track 'Call My Name' which didn't fail to get the party started.
From then on, the hits just kept coming, from all three of her solo albums, songs included: 'Girl in the Mirror', 'Promise This' and 'The Flood'.
Cheryl also treated fans to some Girls Aloud classics, which got an excitable shriek from the audience, no doubt as the band is days away from re-uniting for their ten year anniversary, she treated them to 'The Promise', 'Biology' and 'Love Machine'.
Other highlights included 'Ghetto Baby' which saw the fomer X Factor judge in a saucy routine with her backing dancer boyfriend, 27-year-old Tre Holloway.
She showed her appreciation for her Liverpudlian fans throughout the show, saying: "I love Scousers" and that they were "just like Geordies…  the salt of the Earth".
She continued her interaction by walking through the audience to a smaller stand-alone stage which allowed her to see and wave to her excitable and screaming fans much more easily.
Known for her fashion, Cheryl didn't overwhelm the audience with too many costume changes but kept her choices to a minimum with four in total. From a dark grey peplum dress to a floor length purple gown, such simple choices were picked well as they highlighted her beauty but didn't distract from her performance.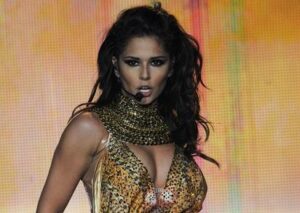 Performance-wise Cheryl is not known for being a strong singer and this was made even more evident as she used a mixture of live and pre-recorded vocals.
Even though the production around her was of a very good standard, her lack of vocal ability made this element of the show fairly middle ground and mediocre.
Another disappointment was that the concert lasted only an hour and 15 minutes, something which could have been made longer if she had more material at her disposal.
All in all, for her first solo headline tour, fans of Cheryl wouldn't have been disappointed by the show and she did her best.
It was a production that she put every effort into even if it wasn't perfect throughout.  A born trier, the Arena is sure to see her back very soon.